The Aquatic Plant Project was launched in 2019 across Ireland with the aim of improving aquatic plant identification skills and increase recording. This included a huge campaign of training and recording days, resulting in thousands of new records. We continued the project in 2020 and 2021, and now 2022, with new opportunities for people to learn about aquatic plants and get involved with recording. Webinars are recorded and the videos are free to view on the Aquatic Plant Project playlist.
The 2022 programme
The 2022 programme included three webinars presented by Nick Stewart. Each presentation was followed by a question and answer session, and then by a short additional talk.
All the videos are now available online:
A series of field days was also held in a range of locations around Ireland. The aim of the days was to improve identification skills and gather records in a range of aquatic habitats.  Thanks to the generous funding from the Irish National Parks & Wildlife Service the events were free.
The first two field days of the 2022 programme were held over the last weekend in May. On the Saturday, aquatic plant expert Nick Stewart and County Recorder, Cliona Byrne led a group of 9 botanists along the Rivers Dee and Glyde in Louth. And on the Sunday, Nick and County Recorder, Margaret Norton led 18 botanists on the banks of the River Boyne and the Boyne Canal in Co. Meath. The third field day was led by Paul Green and Cilian Roden, at Quin, in Clare, and was attended by 11 botanists. At the end of July, two field days were held in County Limerick: one in Limerick City and one at Lough Gur, both led by Nick and County Recorder Tanya Slattery. In August, field days were led by Nick in County Mayo, with County Recorder Eamonn Delaney at Urlaur Lough and with County Recorder Eoin McGreal at Lough Conn.
The last events of the 2022 programme were held over the weekend of 24th-25th September. The Irish Autumn Meeting & AGM, on the 24th, included a talk introducing spiky-rosette aquatics, and a session looking at ponds in the Glasnevin gardens. Six botanists participated in a very enjoyable aquatic field day along the Royal Canal in Dublin on the 25th. All these events were given or led by Nick Stewart.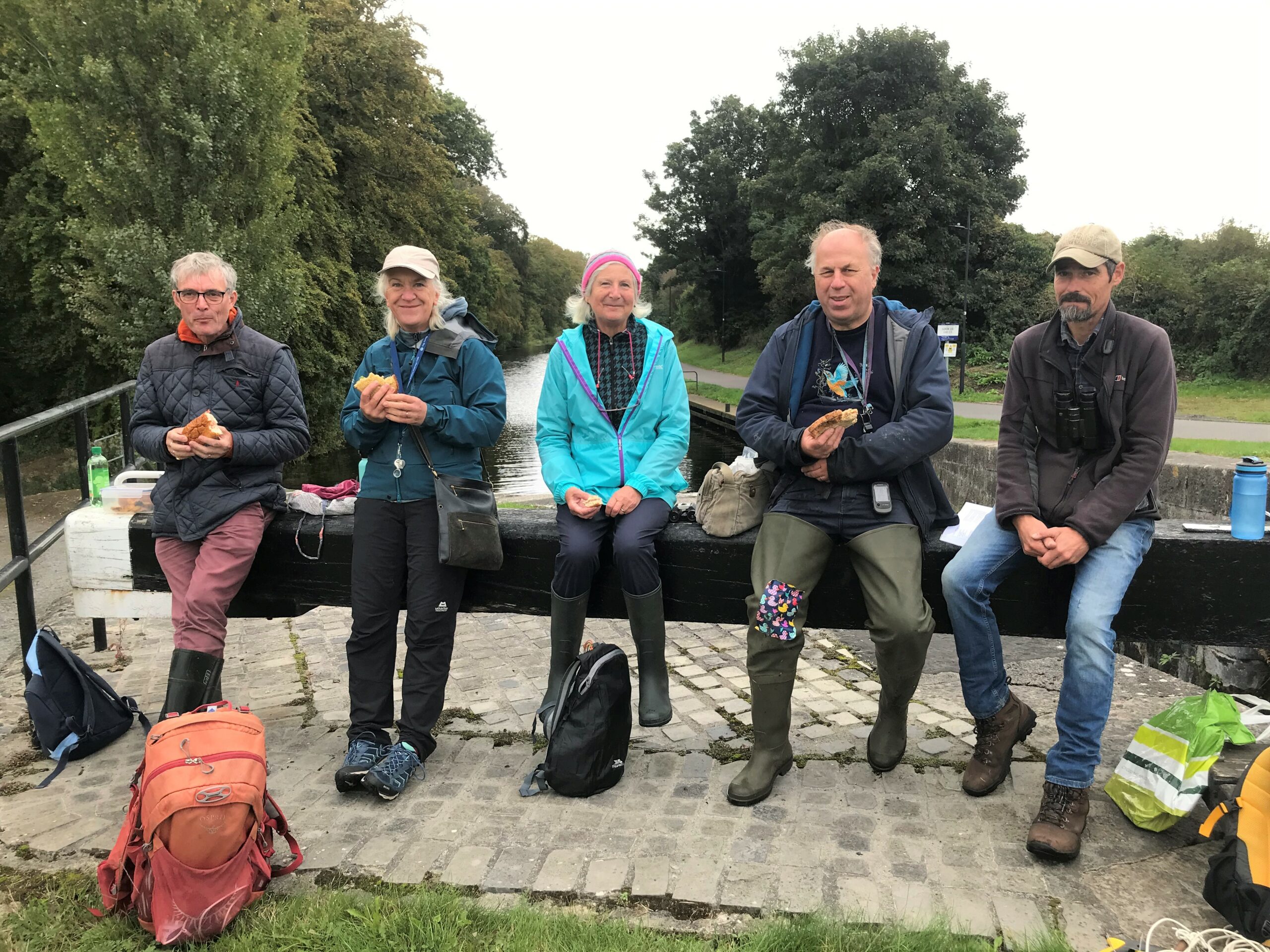 The 2021 programme
Our first event was a sedge & wetland plant training day on the 2nd July, led by John Faulkner, visiting sites on the Cavan - Monaghan border.
We held a webinar on Water-starwort Identification on the 5th July. It covered all Water-starworts (Callitriche spp.) you are likely to encounter in Ireland - and Britain! Watch the video.

On 10

th

July we learned how to identify Water-crowfoots. Watch the video.

On 28th July we held a field aquatic plant training day with Cilian Roden & John Conaghan. We visited a site southwest

of Carraroe, Connemara, Co. Galway to look for and survey Najas flexilis (Slender Naiad), and learnt how to identify pondweeds (Potamogeton spp.) and other aquatic species - including Potamogeton alpinus (Red Pondweed).
Our aquatics expert Nick Stewart led field training sessions in Cork, 21st-23rd August; in Waterford, 28th-29th August; and in Co. Kilkenny (in the Inistoge-Thomastown area) on 30th August.
The final event of 2021 was an Introduction to Broad-leaved Pondweeds webinar by Nick Stewart on the 23rd October.
The 2020 programme
We held two webinars led by aquatic plant expert Nick Stewart on Aquatic Plant Identification in 2020:
Introduction to Aquatic Plant Identification. This webinar covered the main growth forms of aquatic plants, the key features you need to consider, resources to help with identification, and equipment used for sampling. Watch the recording. View the slides.
Stonewort Identification. Charophytes, or Stoneworts, are complex aquatic green algae which can be tricky to identify, but Nick will guide us through the process. Watch the recording. View the slides.
We also ran our first ever online workshop Aquatic Plant Identification. Nick led a virtual workshop where he went through the process of identifying specimens live using a camera and digital microscope to show key features, and participants were able to ask questions throughout. Some participants even sent specimens to Nick in advance which were used during the session. The workshop was a big success and a great learning opportunity for organisers and attendees alike! We aren't able to share this one online, but are looking to offer more similar opportunities in the future.
Training in Northern Ireland - 2020
Thanks to funding from CEDaR, Nick Stewart to Northern Ireland for a week of work in the Ulster Museum Herbarium in February, where he worked through their collection of aquatic plant specimens and provided small group mentoring to five experienced botanists and recorders. This was followed by an aquatic plant identification workshop at Lough Neagh Discovery Centre, Oxford Island Co. Armagh. While February might not seem like the ideal time to study aquatic plants, 16 people came along for an interesting and informative day, which provided excellent preparation for a summer of recording!
The 2019 programme
The Aquatic Plant Project in 2019 was a huge success, training over 100 people in aquatic plant identification and collecting 6397 aquatic plant records, including 370 new hectad records. In total the project visited 239 sites in 97 hectads across 27 vice-counties.
A huge thanks for this success is due to Paul Green for managing the project, Nick Stewart, Chris Preston, Cillian Roden, and Lynda Weekes for running training and recording days, and of course to the National Parks and Wildlife Service (RoI) and the Centre for Environmental Data and Recording (NI) for their generous funding.
You can read a blog post about the first training day here.
Bladderwort Identification

Narrow-leaved Pondweed Identification

Broad-leaved Pondweed Identification

Preservation of aquatic plant specimens

Water-crowfoot Identification

Water-starwort Identification

Introduction to Aquatic Plant Identification

Resources
Downloadable resources to print
Books (more for home study - don't ruin them in rivers and ponds!)