SORRY, ALL BSBI FIELD MEETINGS & INDOOR EVENTS, INCLUDING THE 2020 SCOTTISH SPRING CONFERENCE, ARE CANCELLED UNTIL THE END OF MAY - FURTHER DETAILS HERE: https://bsbi.org/covid-19-coronavirus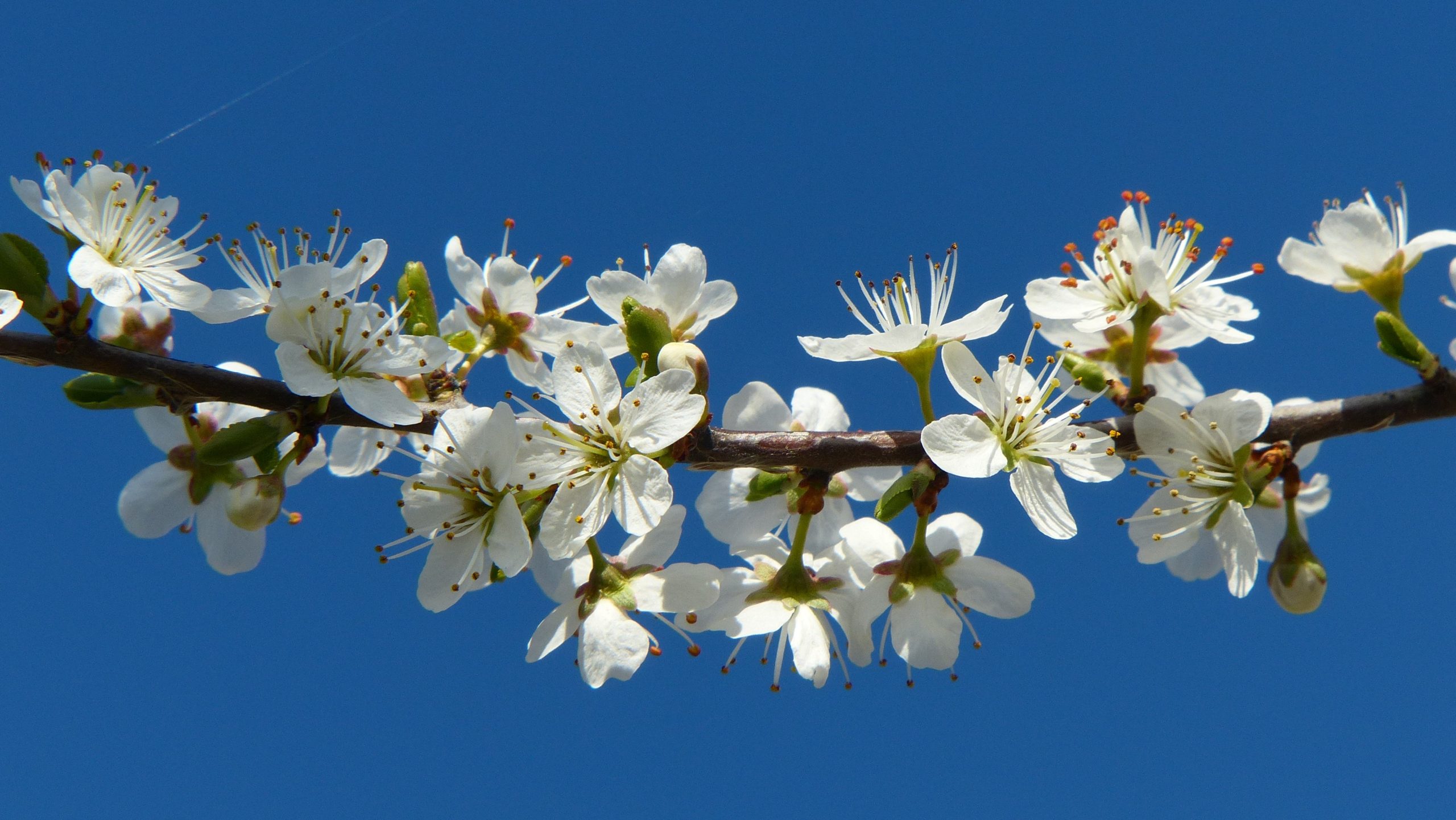 Downloads
Presentations from the 2019 Spring Conferences in Scotland are now available to download.
Scroll down and click on the links to download your copy.
BSBI Scottish Spring Conferences 2020
Coronavirus permitting, we are planning two one-day Spring recording conferences in Scotland. The first is on Saturday the 4th April at Royal Botanic Garden Edinburgh and the second on the following day, Sunday the 5th at Strathpeffer Community Centre, near Inverness.  The same programme will be repeated (more or less). Everyone is very welcome. Click the links for more information and to book. This is a momentous point for the BSBI, as we look back (some nostalgically) at Atlas 2020 and muse over what a post-Atlas world promises. So, plenty to talk about!
BSBI Scottish Spring Conferences 2019
A total of 40 recorders and members participated in two one-day Spring Conferences in Scotland. The first was held at RBG Edinburgh on 11th April 2019 and the second at RSPB's offices in Aberdeen on the following day. The programme was more or less the same.
The programme included an update and progress report on Atlas 2020, a round-the-table discussion on what Recorders' plans are for the final field season and how BSBI members can help in the final year.
Claudia Ferguson-Smyth presented a mini-workshop entitled An Introduction to Dandelions with simple steps to making a reliable record. Then Angus Hannah presented one on Dryopteris affinis (Scaly Male-fern) in Edinburgh while Ian Green organised a Spring Flower ID session in Aberdeen.
There was also a series of short talks by a variety of speakers including An early find in Dumfries by Chris Miles, An Inventory of Twinflower by Richard Marriott, The Kirkcudbright Local Recording Group, by David Hawker, Aquatic Recording by Claudia Ferguson-Smyth, The BSS Urban Flora project by Brian Ballinger, Mountain Flowers by Alan Walker, NESBReC & its Integrated Habitat Survey by Glenn Roberts and an East Ross 2018 VC Report by Brian Ballinger.
Jim McIntosh, BSBI Scottish Officer gave a verbal BSBI News bulletin – largely based on his Scottish Officer's Annual Report 2018. To finish off two excellent days we held a short discussion on post-Atlas activities and discussed preferences for next year's Spring conference in Scotland.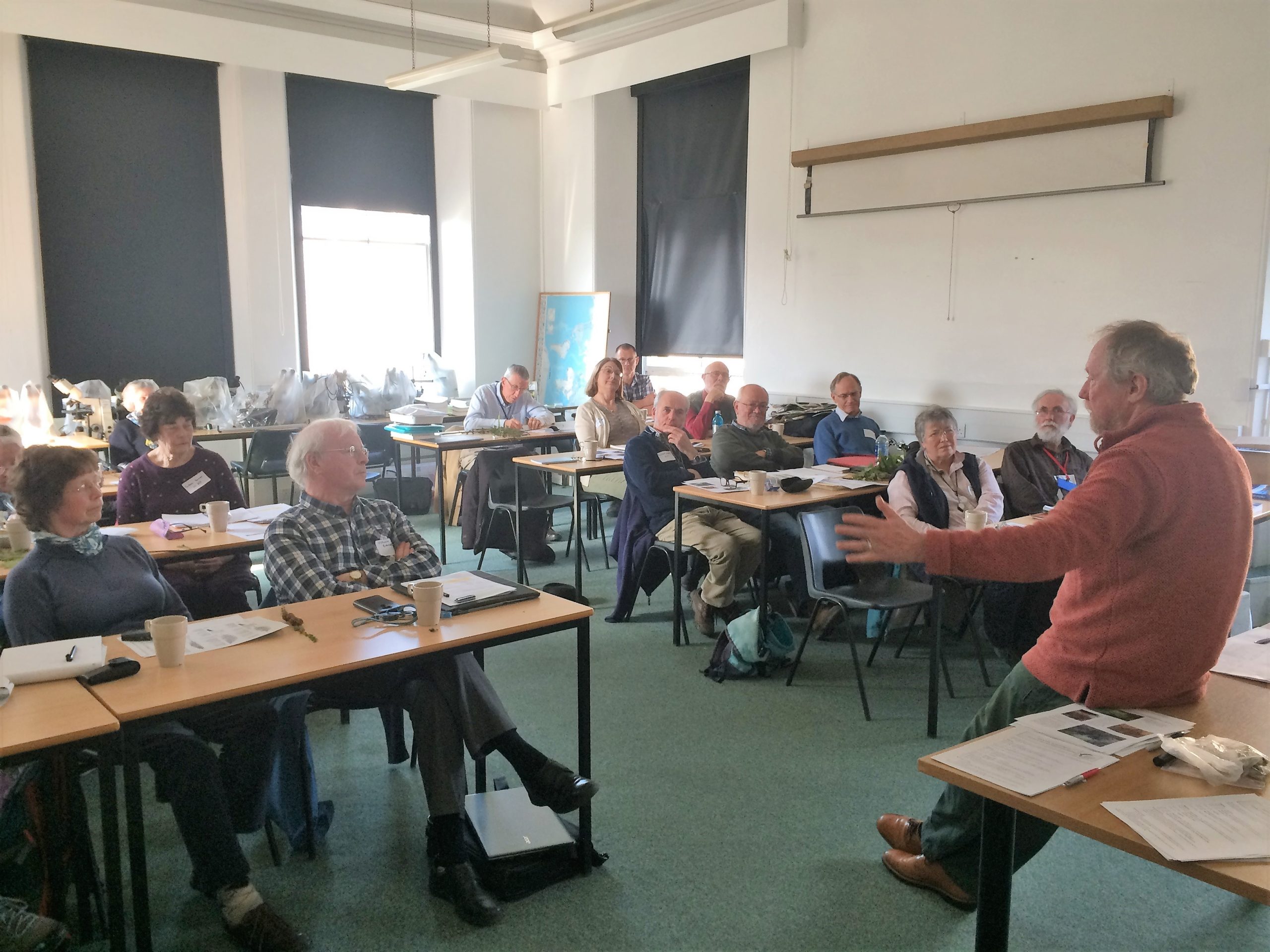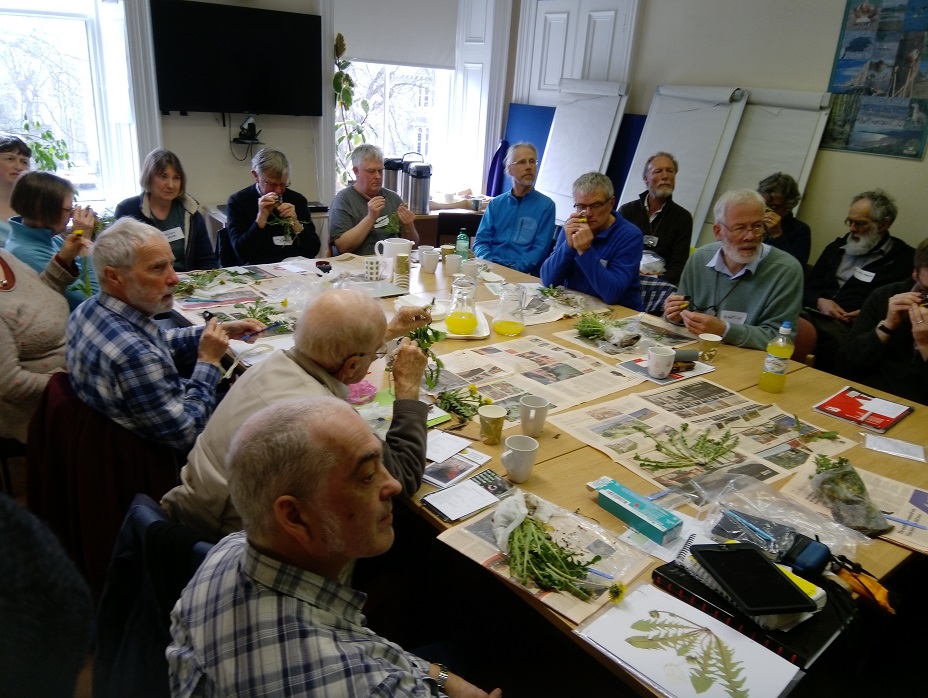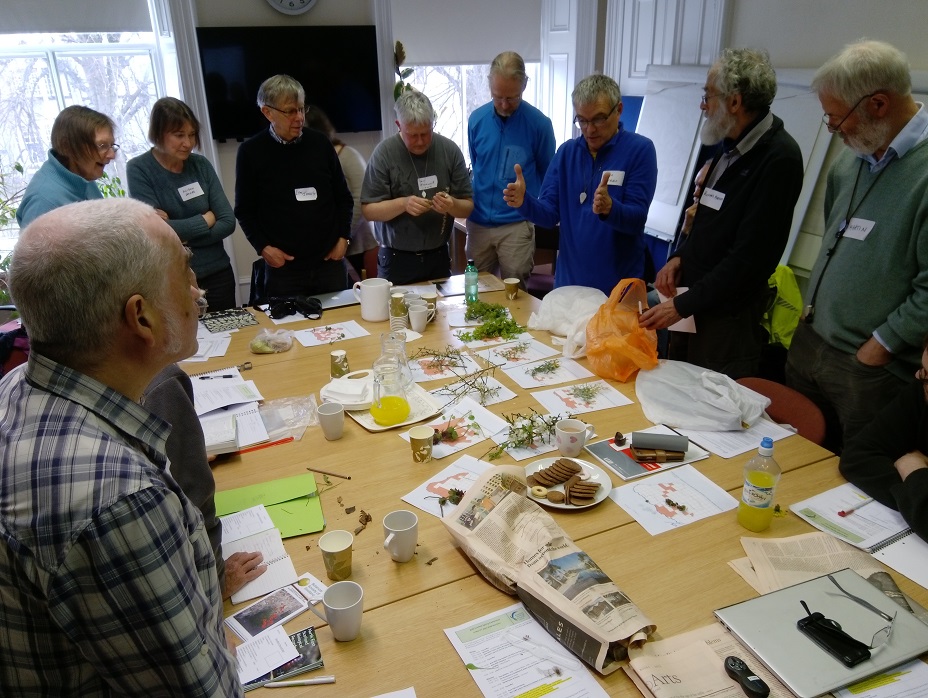 BSBI Scottish Spring Conferences 2018
Two one-day Scottish Spring Conferences were held in 2018, aimed at all recorders and members interested in recording (north or south of the border). They were on the 14th April at RBGE and on the 28th April at Strathpeffer Community Centre. The same  programme (more or less) was repeated at both locations (so folk could choose whichever was easier to travel to).
The theme of these fully interactive Recorders' Conferences was Atlas 2020 – the final two years. We are delighted to now be able to make the talks available to all recorders! Just click on the link below to download the pdf .
After an update on Atlas 2020, there were sessions led by BSBI Scottish Officer Jim McIntosh on the BSBI Database including monitoring Atlas progress; validation/verification; and on making the most of the final two field seasons. There was a talk about  local groups by Michael Philip, County Recorder for Lanarkshire. There were mini-workshops on identifying Utricularia and  Trichophorum followed by reports from the Vice-counties and concluding with a general Q&A session.
BSBI Scottish Spring Conference 2017
"Twenty six members (mostly Scottish Recorders) attended an enjoyable Spring Conference & Workshop at FSC Kindrogan over the weekend of the 10-12 March. The weekend began on Friday afternoon with a major optional session on MapMate during which a range of short talks were given interspersed by practical sessions. The main programme included several talks on Atlas 2020 theme, including one showing some early results, and several on the theme of Data validation again interspersed by practical sessions. I particularly recommend looking at these talks. By way of light relief, Arthur Copping held an Agrostis ID workshop, Ian Strachan held a session on Conifer ID, Paul Smith on using the Vegetative Key and I held one entitled Making the most of your GPS.  After-dinner entertainment on the Saturday night was a round-up of illustrated VC reports by Recorders. On Sunday we heard the latest news about BSBI Data and the NBN and talks on RPRs and Axiophytes and finished up, after a soup and sandwich lunch, with a lively Q&A session".
- Jim McIntosh, BSBI Scottish Officer.
Here is the conference programme. Jim has uploaded the presentations from the 2016 conferences so here are a selection of talks and hand-outs. Right-click on the links below to download the pdfs.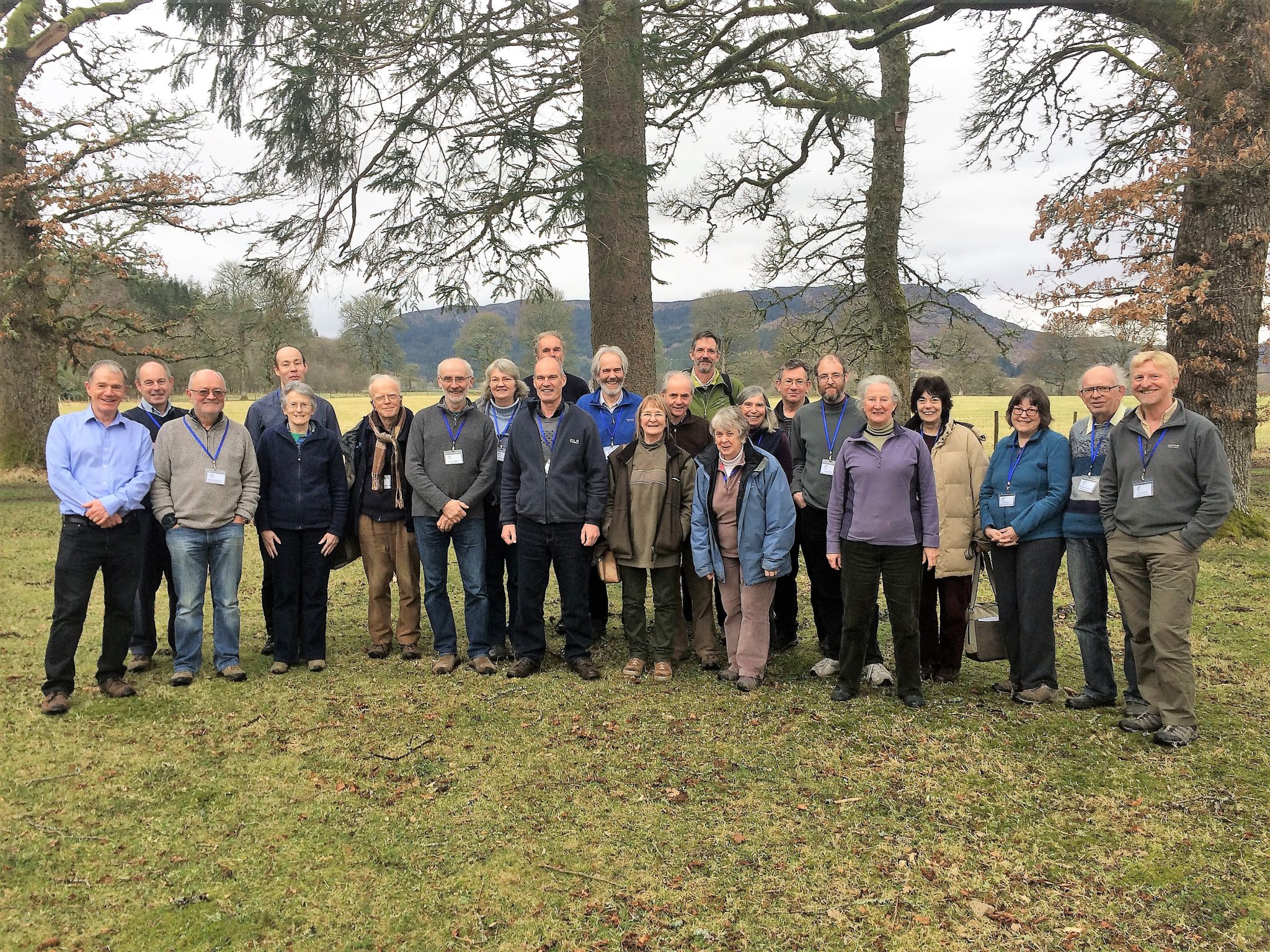 BSBI Scottish Spring Conferences 2016
Scottish Recorders' Workshop 2015: Atlas 2020 - the final five years
In total, 28 members participated in a very enjoyable Recorder's Conference over the weekend of Friday 6-Sunday 8th March 2015 at Kindrogan Field Studies Centre, near Blairgowrie.  The aim was to help recorders prepare for the final five years of Atlas 2020.  The weekend was fully interactive with plenty opportunities to discuss and feedback.  Because Scottish Recorders rarely get together, plenty time was programmed to allow folk to chat over meals and in the bar so the event was very sociable.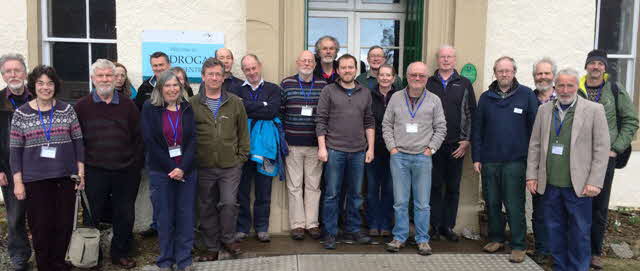 Group photograph of the 2015 Scottish Recorders' Workshop
During the key-note session on Friday evening we gave a comprehensive update on Atlas 2020. Over the next two days there were major sessions on MapMate and the BSBI Distribution Database – some plenary and some split by ability for beginners and improvers.  We encouraged all participants to bring their own laptops (or even desktops!) so they could follow these sessions in real-time.  There were further sessions on the BSBI Data Entry Guidelines, Importing Data into MapMate, Memory-Map and Rare Plant Registers.  I gave a presentation on the BSBI's proposal to make our data publically available on the NBN which was followed by lively discussion, and Andy Amphlett gave a great report on the project to record in the Cairngorm Nation Park.  Another highlight was when a selection of Recorders gave short 5-10 minute illustrated reports of what they have been getting up to in their vice-counties, after dinner on Saturday evening.
We also offered one-to-one clinics with experts on specific MapMate, DDb, Memory-Map and Rare Plant Register problems.  The expert advisers (and speakers) were Bob Ellis (MapMate), Tom Humphrey (DDb), Chris Metherell (RPR), Andy Amphlett (DDB & Excel) and me, Jim McIntosh (Memory-Map).  We also encouraged participants to bring any specimens for identification, and I noticed that Chris & Alan Silverside were kept busy looking at Euphrasias!
Here are a selection of talks and accompanying handouts:
---
---
---
---