A brief introduction to County Fermanagh and its flora (vcH33)
County Fermanagh is situated in the south-west of Northern Ireland (NI) and the north-west of Ireland. It is an important lakeland region with low-intensity farming, substantial tourism (including fishing, boating, caravanning and natural history) forestry and retail as the four most typical forms of local employment. Freshwater covers 30% of the total area of Fermanagh, and therefore it is no surprise that the flora contains many aquatic and wetland vascular plants, several of them rare or very scarce elsewhere in Britain and Ireland.
Fermanagh is separated from the west coast of Ireland by a narrow strip of land only 7 km wide that runs from Belleek to Ballyshannon. The close proximity of the Atlantic Ocean explains the extreme oceanic nature of the county climate. Most of Fermanagh is in the 'rain shadow' of the mountains of Co Leitrim and the high land to the west of the county, and despite immediate impressions, it is somewhat drier than other lake districts in the British Isles famous for their tourism!
Heather clad mountains covered with wide, bleak stretches of blanket bog are an important feature of the county, and the long gently sloping ridge of Cuilcagh Mountain standing at an eventual maximum of 670 m above sea level is its highest point. The geology is dominated by sandstones and Carboniferous limestones, the latter being outliers of the Ben Bulbin Range that lie further west in counties Sligo and Leitrim of the Republic of Ireland.
The topography or 'lie of the land' of Fermanagh was moulded by Pleistocene ice age glaciers which when they eventually retreated about 13,000 years ago left a landscape densely spotted with a swarm of small rounded hills or 'drumlins' of transported morainic material. These glacially deposited hillocks are composed of glacial drift soils which often have a high clay content and nothing in the way of a mature soil structure with definite horizons. As a result, these soils often display poor or severely impeded natural drainage.
As in virtually all of Ireland, very little ancient woodland exists in Fermanagh except in more or less inaccessible ground. This includes lake islands, narrow gorges in upland areas, and damp to wet areas without access roads or tracks. A considerable area, in extent approaching 10% of Fermanagh terrain, has become afforested with conifers during the last one hundred years.
In 2012 The Flora of County Fermanagh, a 864 page book, was published by National Museums Northern Ireland with major funding from the NI Environment Agency. The flora details the findings of a 35 year systematic botanical survey of the flowering plants and ferns (ie the vascular plants) of Fermanagh carried out by the BSBI joint VC County Recorders, Ralph Forbes and Robert Northridge. Additional plant records were obtained from a number of detailed field surveys by staff and agents of the NI Environment Agency. As only one VC recorder is resident in the county, however, the bulk of the fieldwork has fallen to Robert, and in recent years he has often been accompanied by his wife, Hannah, herself a very experienced botanist with an excellent eye!
In faraway Strangford, Co Down, Ralph has researched and written the species accounts, incorporating in them as much of the basic botany and autecology of each plant species as might interest an enquiring mind, together with information on topics as varied as toxicity, herbal use, fossil history, wealth of names and their derivation, and continental and world distribution.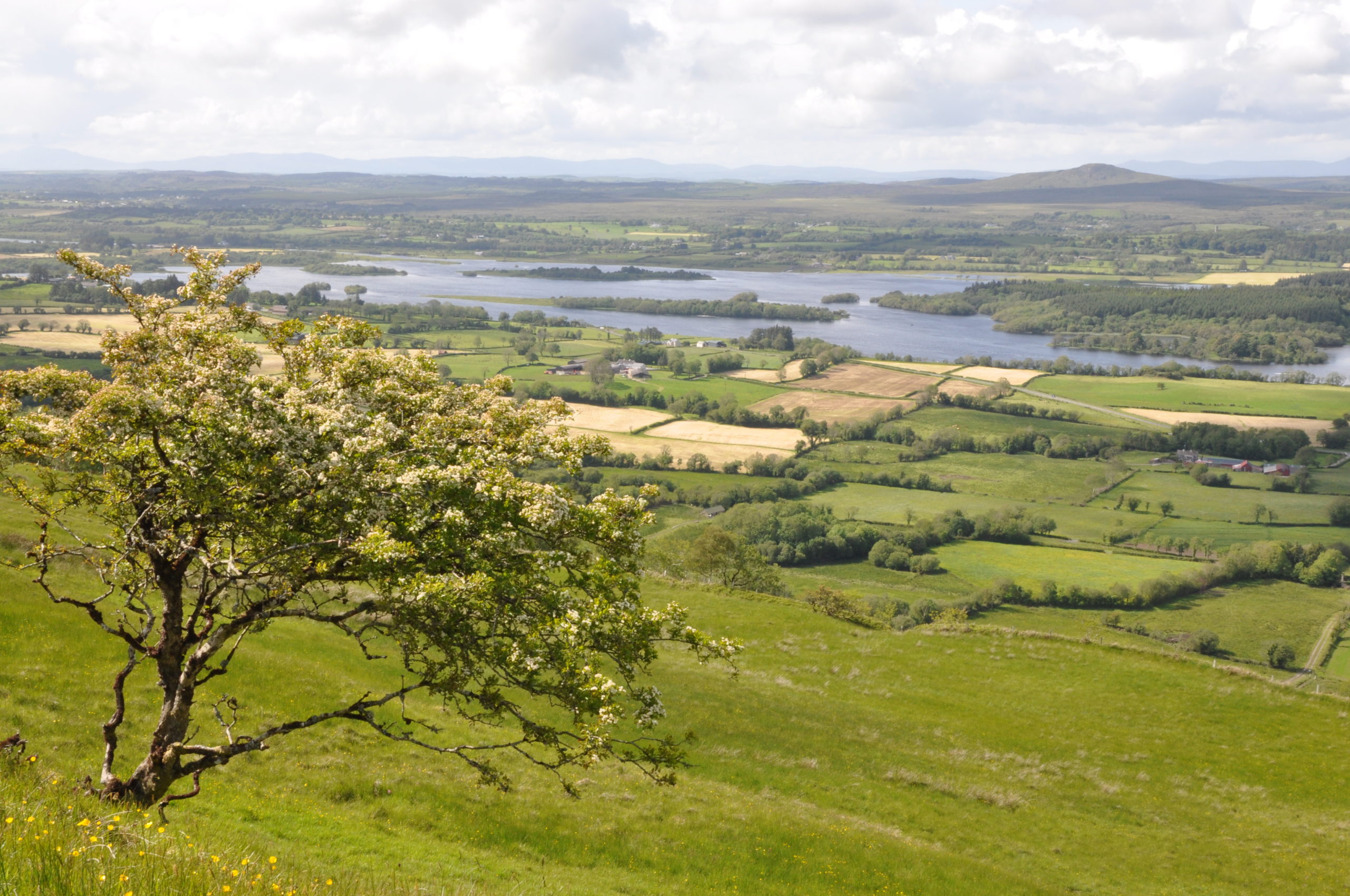 Lower Lough Erne is a large expanse of very exposed water and its interest lies not in its water plants, but in those of its shoreline and islands. Drainage schemes in the late 19th century and the development of the Ballyshannon hydroelectric power station together substantially lowered the water level and the then exposed shoreline has become a nearly continuous band of trees about 30 m wide. It supports Alder and various shrubby willows, plus Spindle, Buckthorn and Guelder-rose. The woodland floor at Carrickreagh supports Neottia nidus-avis (Bird's-nest Orchid) and Monotropa hypopitys (Yellow Bird's-nest) and Carex strigosa (Thin-spiked Wood-sage).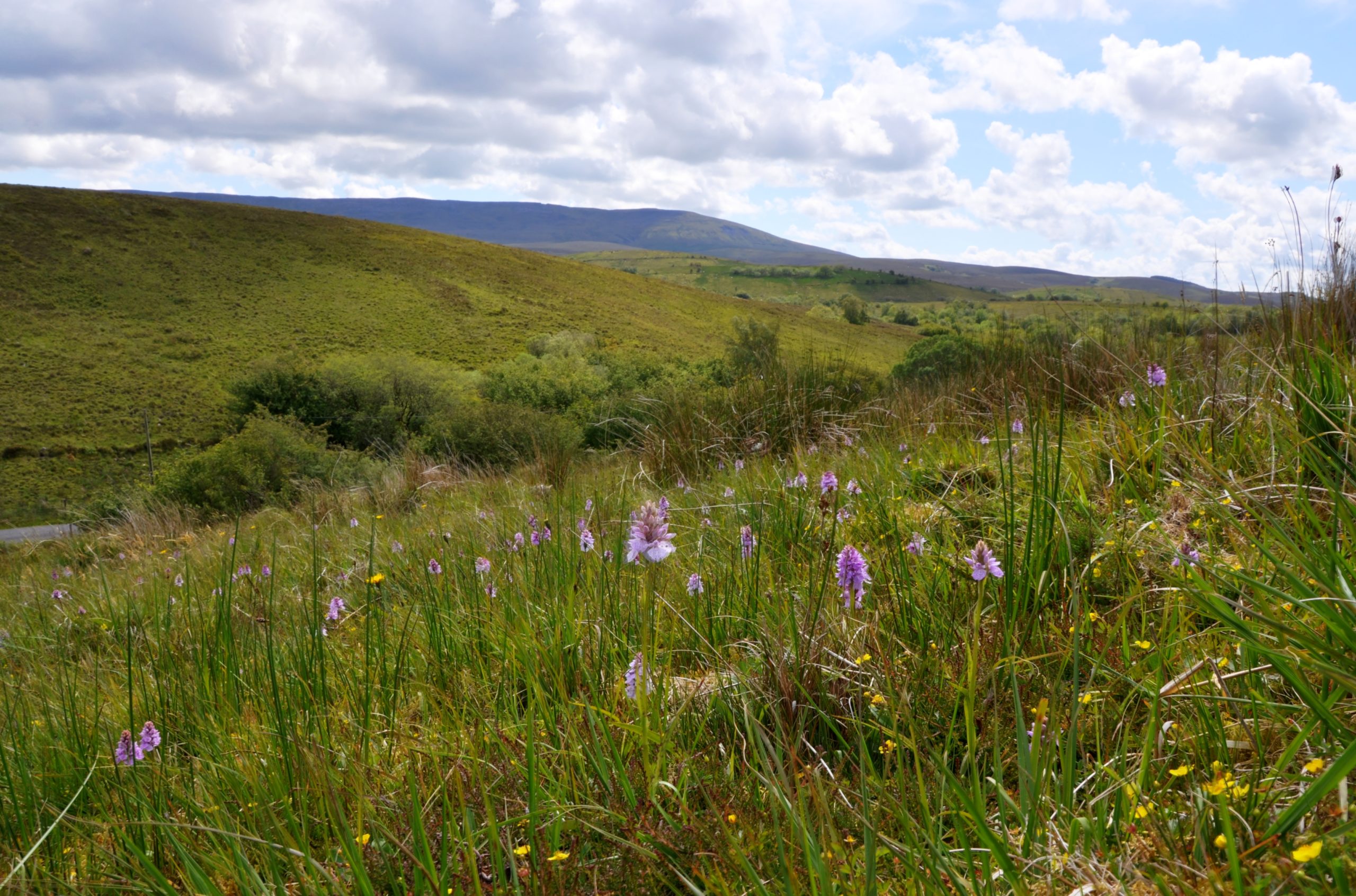 The limestones and peaty areas around the Marlbank scenic loop support a wide range of interesting species from Taxus baccata (Yew) and Juniperus communis (Juniper) on cliffs to wild Meconopsis cambrica (Welsh Poppy) in damp woods, while Saxifraga hypnoides (Mossy Saxifrage) grows on shaded scarps along with Sesleria caerulea (Blue Moor-grass). On mildly acid ground Pseudorchis albida (Small-white Orchid) and Platanthera bifolia (Lesser Butterfly-orchid) occur as well as Pinguicula lusitanica (Pale Butterwort) and P. vulgaris (Common Butterwort).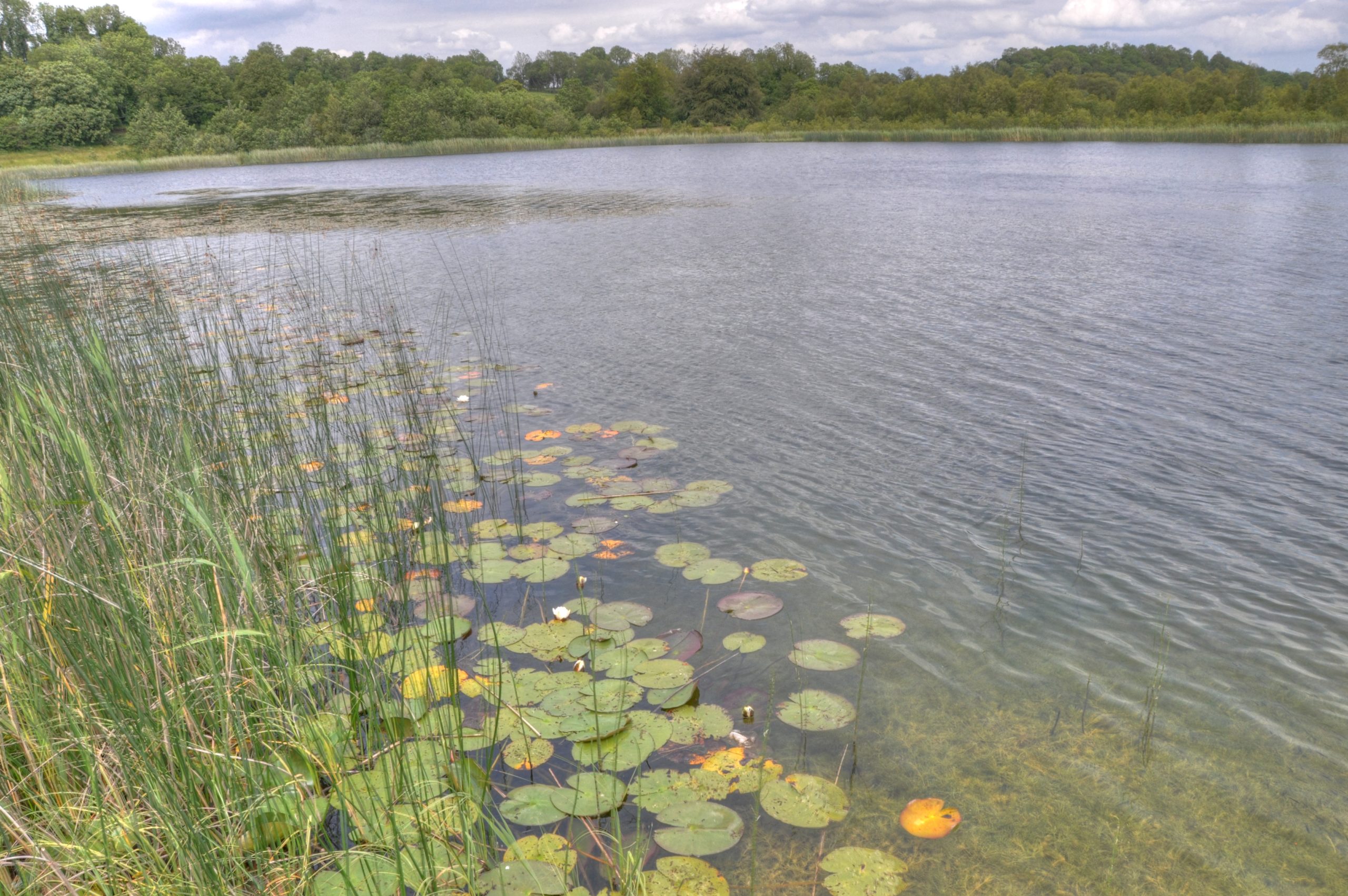 In SE Fermanagh lowlands there are a group of clear water Marl lakes between Magheraveely and Rosslea. Kilroosky Lough is a designated conservation protected site that sits across the International border between N Ireland and the Irish Republic. The lakeshore has a particularly rich fen community with calcicole species including Parnassia palustris (Grass of Parnassus, Galium ulginosum (Fen Bedstraw) and Epipactis palustris (Marsh Helleborine). It is also unusual in having a large amount of Pyrola rotundifolia (Round-leaved Wintergreen) growing through the Phragmites australis reed bed and through the wooded area on the western shore of the lough. Unfortunately, this rare wintergreen has only been recorded on the Co Monaghan shore.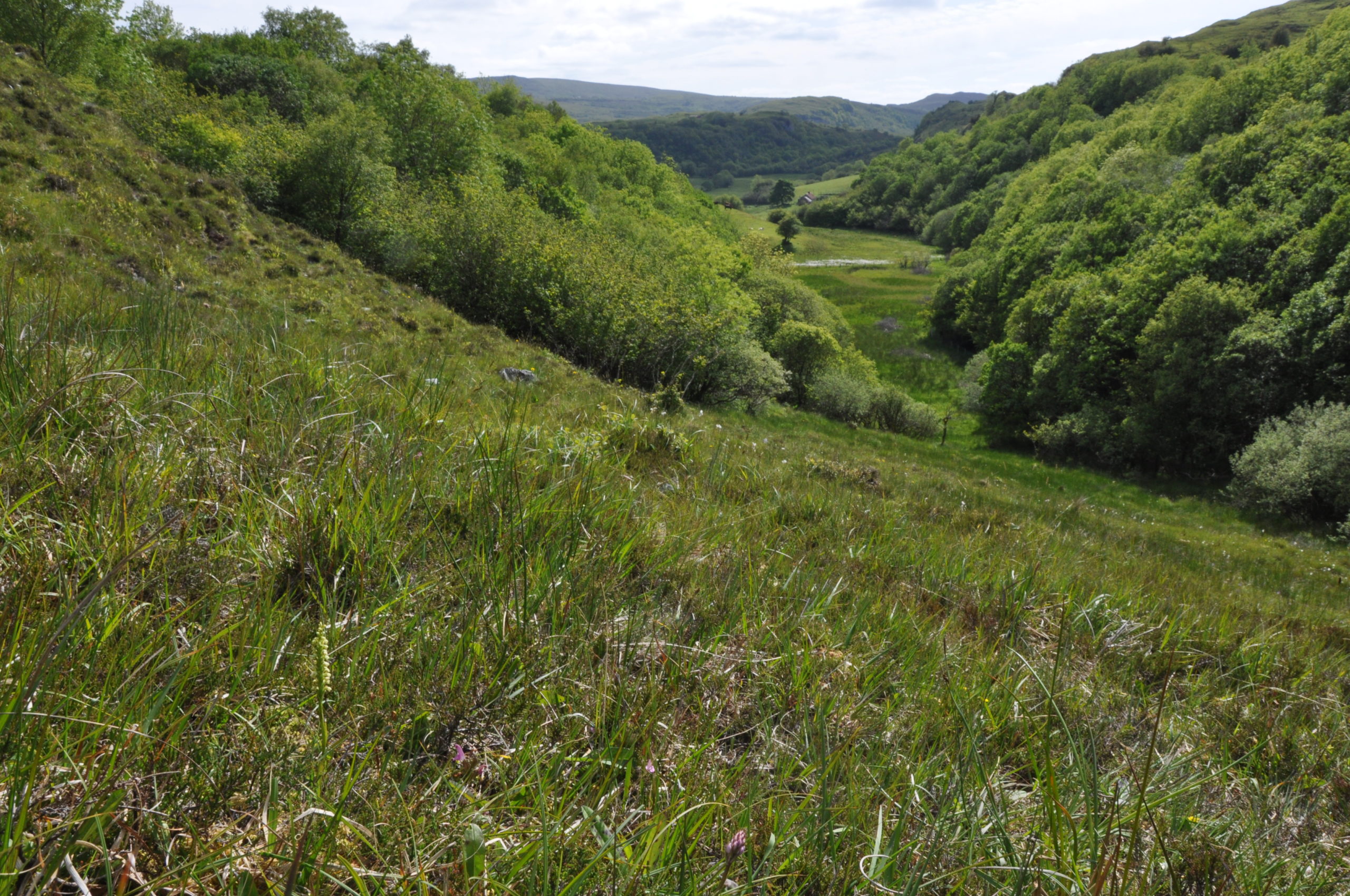 The limestones around the village of Derrygonnelly stretch from Callow to Monawilkin and Belmore Mountain and comprise one of the largest areas of exposed limestone in Northern Ireland. A mixture of pastures, flushes, pavements, cliffs and wooded scarps contain rarities such as Botrychium lunaria (Moonwort), Neotinea maculata (Dense-flowered Orchid) and Pseudorchis albida (Small-white Orchid). Other orchids have been found on Callow Hill including hundreds of Orchis mascula, occasional Coelglossum viride and both species of butterfly orchid, Platanthera bifolia and P. chlorantha.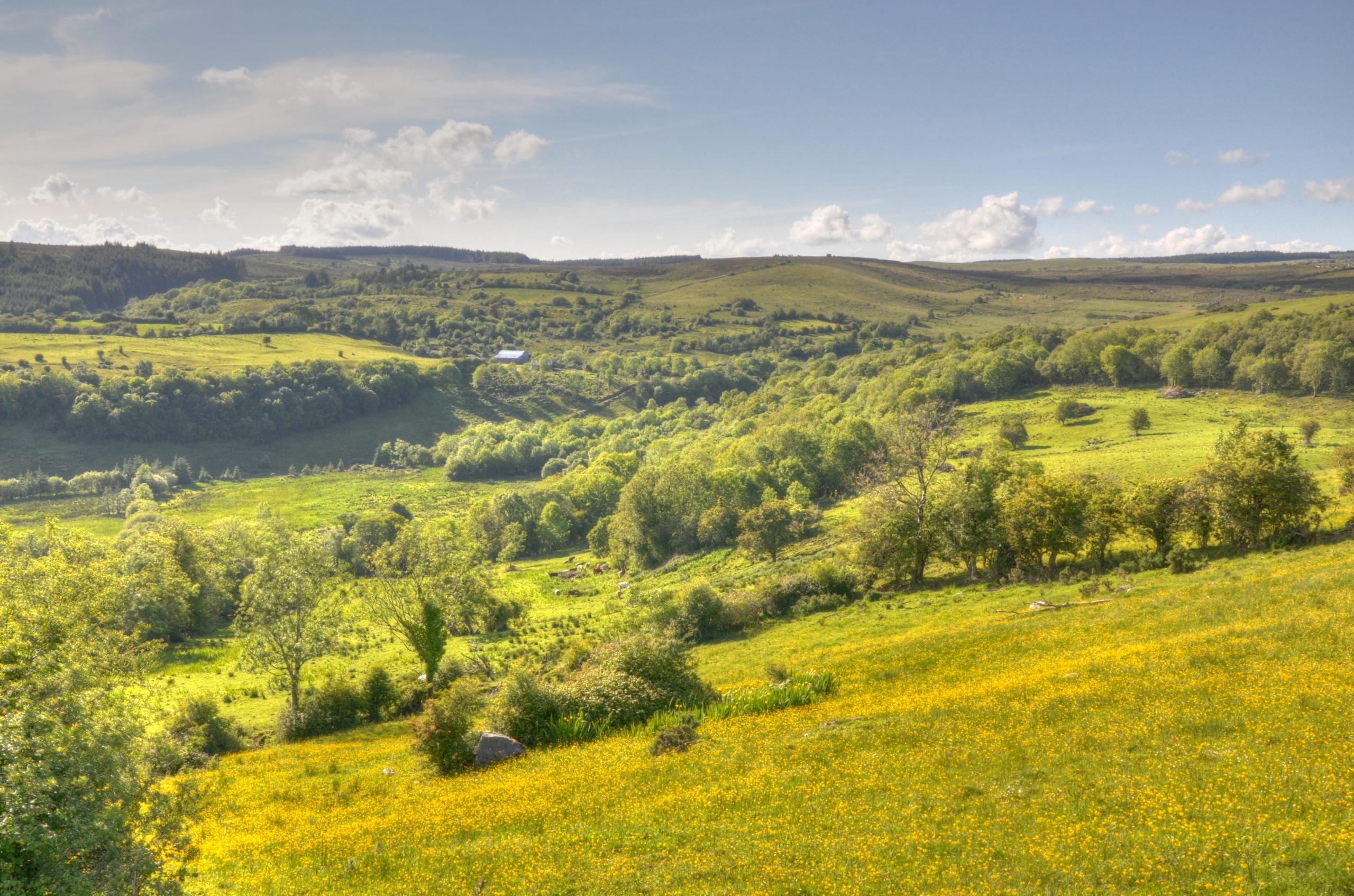 In the SW of the county there are interesting, semi-natural woodlands on the sides of steep-sided river valleys. The fast flowing Lurgan River, with its waterfalls and rapids, sits within one of the most extensive examples of this type of woodland. The wood in the Lurgan River Glen is particularly varied because of changes of soil type and steepness across its breadth. The trees include Quercus petrea (Sessile oak), Pinus sylvestris (Scot's pine) and Sorbus aucuparia (Rowan) on the steeper, more acidic higher area that grades into a more base-rich area on gentler slopes where Corylus avellana, (Hazel) dominates. Among its more notable species are the parasitic Lathrea squammaria (Toothwort), Dryopteris aemula (Hay-scented Buckler-fern) and a few plants of the very rare Epipactis phyllanthes (Green Helleborine) orchid.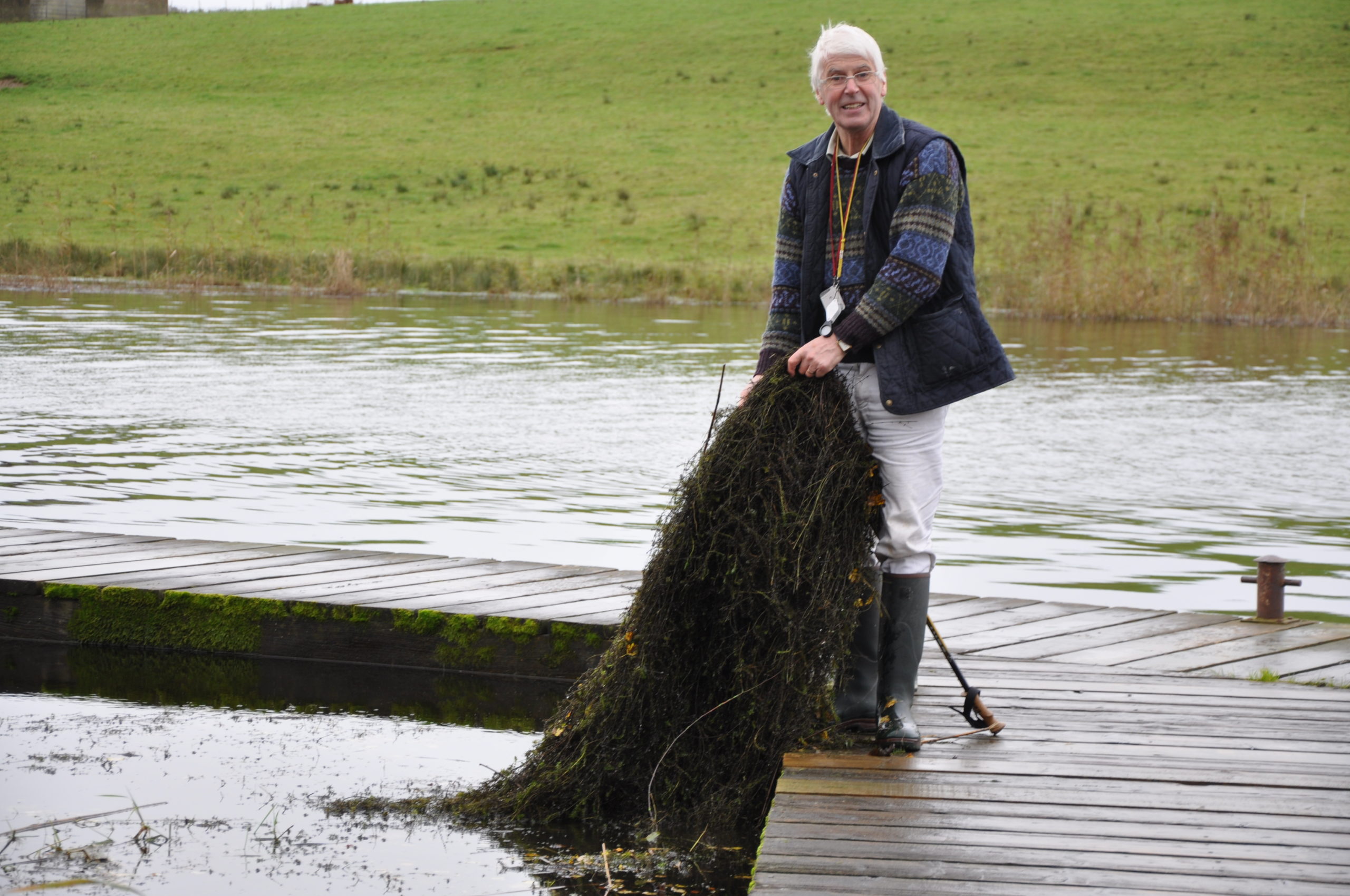 Robert Northridge and Elodea nuttallii at Bun Quay.