County Recorder
Paul Smith
Email: pas.vc110@gmail.com
Postal address: 8 Locks Road, Locks Heath, Southampton, SO31 6NT
Brief history of botanical explorations
The Outer Hebrides is a large group of islands in the north-west of Scotland with a relatively small but interesting flora. Its plants have been written about since the 1690s when Martin Martin visited the islands, and he was followed by Balfour and Babington in the 1840s and Shoolbred in the 1890s. It was not until the 1930s and 1940s however that there was systematic recording of the flora, when competing teams headed by Wilmot and Heslop Harrison aimed to produce a Flora, although in the event no complete Flora was published, and the first Flora of the Outer Hebrides only appeared in 1984.
Richard Pankhurst coordinated updating of hectad records for the New Atlas, and Paul Smith joined him as joint recorder and started a program of tetrad recording in 2002, aiming to produce a new, tetrad Flora by around 2030 (there are a lot of tetrads in v.c. 110!). A rare plant register was produced in 2004 with minor updates in 2008, and a new edition is in preparation.
Intriguing Hebridean tree
Paul Smith, County Recorder for the Outer Hebrides, and RBGE's Markus Ruhsam, are featured in recent articles about a lone apple tree found on an inaccessible cliff on an uninhabited Scottish island - it may have been hanging on there since the end of the last Ice Age. Read the story in The Times (paywalled), The Sunday Post and The Independent (not paywalled).
Current recording
Visitors are encouraged to record (in tetrads or more detailed levels) wherever they are visiting. Don't assume that everything has been recorded – there are many discoveries to be made in even the best-known sites. Husinis is a regular site on visitors' itineraries, but Scilla verna was recorded for the first time there in 2013; it's probably been there unrecorded for many years. If you're visiting and would like some suggestions of areas to visit to help with recording, please contact Paul Smith.
Outer Hebrides Biological Recording
Visit our Facebook page
Our aim is to increase knowledge of the nature and distribution of the flora, fauna and fungi across the Outer Hebrides and make this information available to everyone. We regularly hold field meetings across the islands to record anything and everything we see – including plants. We liaise with County Recorder Paul Smith to help target under-recorded squares and all plant records are sent to the BSBI.
Please come and join us, whether you're resident in the Outer Hebrides or just passing through.
Contact admin@ohbr.org.uk if you'd like to join the mailing list or check our website http://www.ohbr.org.uk/ and Facebook page for details of field meetings.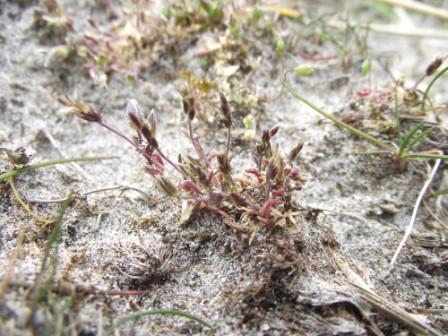 Mibora minima. Image: Paul Smith
Recent finds
In 2013 snorkelling revealed that Potamogeton epihydrus, a rare species in Europe found only in the Outer Hebrides, is abundant in some lochs in South Uist, although there is often little sign of it on the surface. You can see underwater images here.
2016 saw recording activity in the lochs on the west coast of Lewis, which had a good selection of charophytes including the tiny Nitella confervacea, which has only a handful of previous records. Juncus filiformis proved to be very common around the fringes of Loch Arnol. In 2015 the tiny grass Mibora minima was found on dunes on Baleshare Island, greatly extending its distribution in Britain.
New county records in 2013 included Alchemilla xanthochlora and Senecio viscosus, and a new population of Lycopodiella inundata was found on the Pairc field meeting – only the second for the v.c., and the first sighting for 45 years.