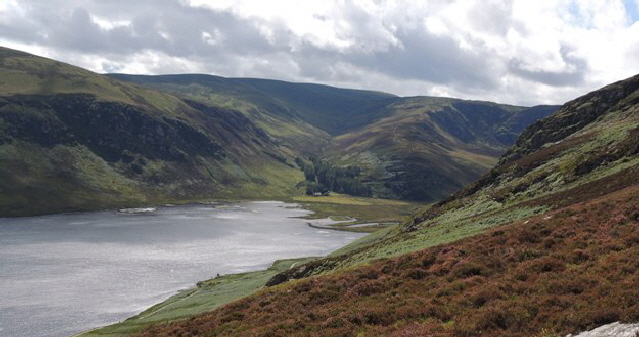 County Recorders
Robin Payne is lead recorder and can give general advice on Environmental Matters.
Email: robin923@btinternet.com
Tel: 01828 633361
Theo Loizou can advise on location and identification of local plants.
Email: loizou222@outlook.com
Tel: 01356 622752
Overview of Angus
Angus (vice county 90) was originally named Forfarshire and one of its main towns is Forfar, about 15 miles north of Dundee. The vice county includes Dundee within its boundary, giving us some interesting urban sites. To the extreme north are the glens of the Grampian Mountains –Glen Esk, Glen Clova and Glen Isla terminating in the botanically rich Caernlochan. The glens are set amongst peaks rising to 1000 m providing 'alpine' plants in abundance.
The rivers from these glens meander through fertile agricultural areas with lochs and coniferous plantations, before emerging at the coast where we have some excellent botanic areas to explore – Barry Buddon providing sand dunes  while Arbroath has steep sandstone cliffs.
Notable plants in Angus include the following alpines, which are nationally rare. Salix lanata (Wooly Willow), Cicerbita alpina (Alpine Blue Sow-thistle) and Veronica fruticans (Rock Speedwell). These occur in Glen Clova and Caenlochan.
Of interest in the lowlands are Calmagrostis purpurea (Scandinavian Small-reed) and Cicuta virosa (Cowbane) both found at Reswalli Loch. At the coast around Barry Buddon may be found Dianthus deltoides (Maiden Pink) and Lathyrus japonicus (Sea Pea). 
County Recorders' reports
Floras of Angus
The Flowering Plants and Ferns of Angus
This delightful book was written and published by Barbara Hogarth in 2012. Copies are available from the author.
The Flora of Angus (Forfar , V.C. 90)
This book by  Ruth Ingram and  Henry Noltie was published by Dundee Museum in 1981. 
Local surveying for Atlas 2020
We like to base our botanical records on monads (i.e. 1 km squares as shown on Ordnance Survey maps) using a 4 figure OS Grid Reference for each monad. Rare plants within the monad should be given a full Grid Reference (eg 10 figures). Offers of help to complete the surveying of Angus are welcome. To find out which monads are in need of surveying, please get in touch.