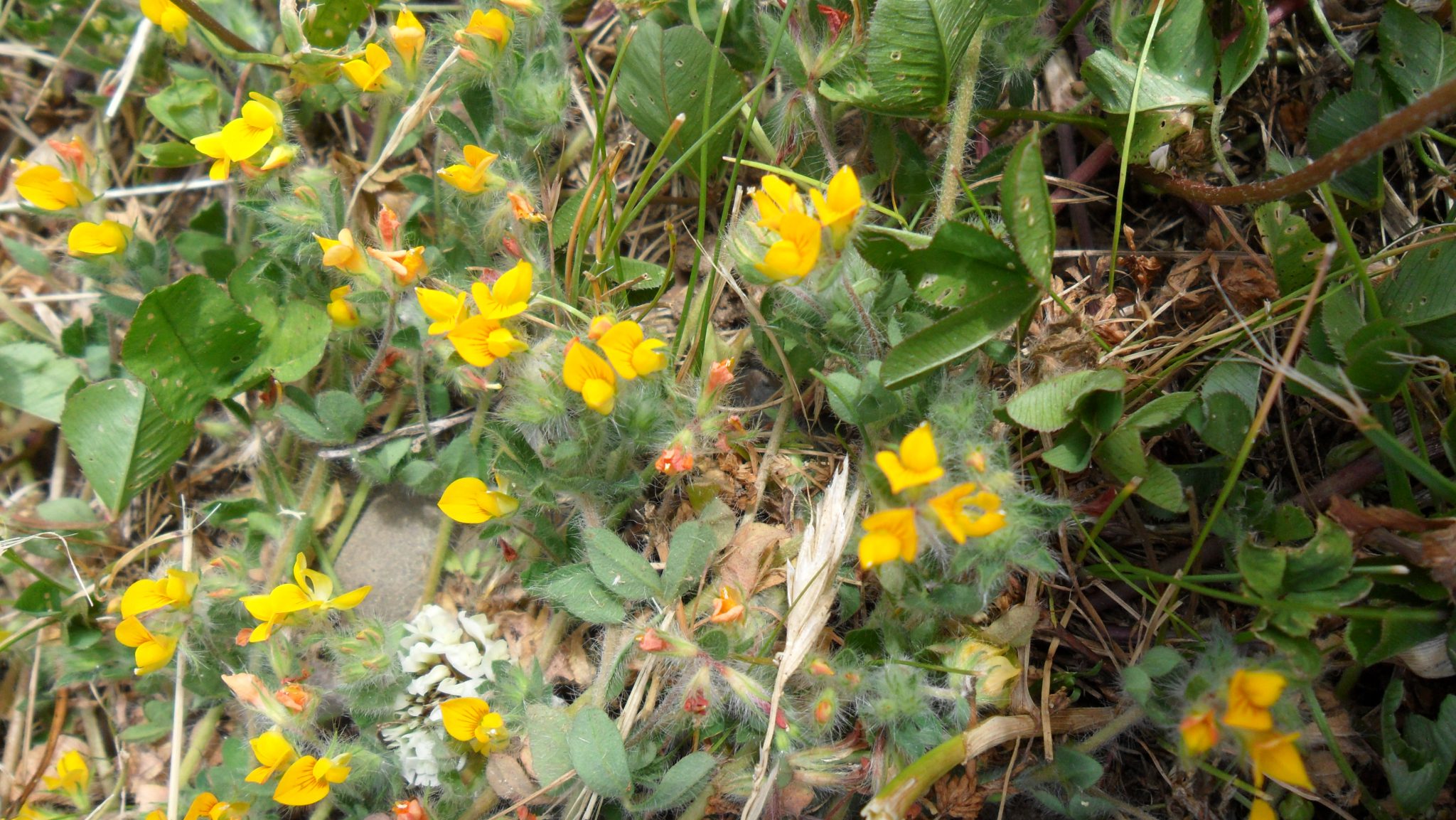 Recording in Co. Wexford (v.c. H12) in 2016
2016 was a fantastic year for recording, the weather was on our side and plants just kept flowering way past their normal period. Recording took place over the whole year, with 48,000 more records collected than any other year. 53 new species and hybrids were added to the county list, and if you include subspecies and varieties there were 86 new for Wexford. Of these, only 7 were native.
Records were received from 50 people besides me and my joint vice-county recorder Paula O'Meara. The majority sent in records for the flower of the month the Wexford Naturalists' Field Club chose to record. This proved highly successfully and popular amongst club members. Many monads had gaps filled for spring species like Ficaria verna (Lesser Celandine) where Paula and I had recorded when it wasn't showing.
Frankie Tenant made one of the star re-finds of the year, in the drains on South Slob (T0814) where hundreds of dainty golden yellow flowers of Utricularia australis (Bladderwort) were standing above the water surface. This is the 3rd county record and first since 1937. Frankie had Lamprothamnium papulosum (Foxtail Stonewort) in Lady's Island Lake (T1004), first record from the lake since 1999. A specimen was sent to Nick Stewart the BSBI referee for Stoneworts who determined the identification for Frankie. Frankie had a number of days out recording with Roy Watson during the year. Their Radiola linoides (Allseed) from a green lane on Forth Mountain (S97111860) is the first record for the hectad since 1974. Ceratophyllum submersum (Soft Hornwort) from a drain at Ballagh (T02240562) is the 3rd record for the county. They had a new monad for Filago minima (Small Cudweed) along a forest road at Ballyconnigar (T14173455). Osmunda regalis (Royal Fern) from the side of the railway on South Slob (T0814) was new for the hectad. Roy found a new monad for Spirodela polyrhiza (Greater Duckweed) at Sigginstown (T05430699), only the 3rd county site since 1974.
Dominic Berridge asked me to take a look at an orange poppy he found naturalised all over the walls of a working quarry at Finchogue  (S993398), certainly a spectacle! This was identified as Papaver atlanticum (Atlas Poppy), 3rd county record.
A team surveying the River Slaney flood plain, either side of Enniscorthy, came across some really interesting species: Joanne Denyer and Jonathan Yearsley found Potamogeton x cooperi (P. crispus (Curled Pondweed) x P. perfoliatus (Perfoliate Pondweed)) in the River Slaney (S97193886), above junction with River Urrin, with Potamogeton perfoliatus and Myriophyllum spicatum (Spiked Water-milfoil). A specimen was sent to the BSBI Pondweed referee Chris Preston who confirmed the ID. A new hectad record. Eleanor Mayes had a large stand of Bidens cernua (Nodding Bur-marigold) in a wet field on the east side of the R. Slaney (S973387). Also a new hectad record. In the same field Róisín NigFhloinn found a little Rorippa palustris (Marsh Yellow-cress), the first hectad record since 1881. Róisín had Mimulus guttatus (Monkeyflower) in a wet field (S97664063), this time north of the town. A new hectad record.
Shane Farrell added two new garden escapes to the county list: Campanula rapunculus (Rampion Bellflower) self-sown on the walls and roof of building in the Irish National Heritage Park (T01122252) and Lonicera henryi (Henry's Honeysuckle) self-sown on the side of a wall at Fourth Commons (S979180). 
Joanna Hodghton's Linaria purpurea (Purple Toadflax) at Glenglass (S861416) was new for the hectad and her Primula veris (Cowslip) at Woodbrook (S860444) was the first hectad record since 1992.
Chris Metherell identified Euphrasia nemorosa x E. confusa from Craig T10297210 for Paula O'Meara, a new native hybrid for the county. Paula O'Meara found 14 other new species for the county, all were garden escapes.
Here in the order they were recorded:
Festuca glauca str. – Glenour (S872262), 25 March, self-sown on road verge.
Pyracantha coccinea (Firethorn) – Kiltealy (S85154676), 30 March, self-sown on wall.
Geranium 'Johnson's Blue' – Ballagh (S83192944), 04 June, Field hedgerow.
Hypericum olympicum – Whitechurch (S708193), 19 June, self-sown on top of stone wall.
Iris germanica (Bearded Iris) – Whitechurch (S70821935), 19 June, old clump established on road verge near farm ruin.
Chiastophyllum oppositifolium (Lamb's-tail) – Ballymore (T08134987), 4 July, established on top of shaded concrete wall.
Alcea rosea (Hollyhock) – Ballinrooaun (T00923091), 10 July, road verge.
Saxifraga stolonifera (Strawberry Saxifrage) – Ballysop (S72421945), 11 July, established by woodland pond.
Clarkia amoena (Godetia) – Kilhile (S71591186), 21 August, surviving with dumped soil on waste ground.
Spiraea japonica (Japanese Spiraea) – Drumderry (S90005854), 27 August, flowering through rubble heap.
Sedum kamtschaticum ellacombeanum – Irish Coastguard Station, Rosslare (T10261422), 10 September, self-sown on grave. Specimen was sent to the BSBI Sedum referee who determined the ID.
Houttuynia cordata (Fish-plant) – Ramsgrange (S74260947), 20 September, on dumped rubble.
Cornus sanguinea (Dogwood) – Castlebridge (T055266), 27 September, surviving at gateway of brown field site.
Calceolaria chelidonioides (Slipperwort) – Castlebridge (T055269), 30 Spetember, weed of Community Garden in grounds of house ruin, where it sporadically appears.
Setaria pumila (Yellow Bristle-grass) – Killenagh (T16585027), 17 October, weed of car park.
Paula also had many other good finds including: 
Lepidium ruderale (Narrow-leaved Pepperwort) – Tellarought (S756215), 21 February, one between concrete cracks at graveyard. 4th county record, first since 1995.
Orobanche rapum-genistae (Greater Broomrape) – Kelly's Rock, Ballymaclare (S74422175), 22 June, under Ulex europaeus (Gorse) along rough lane.
Euphrasia arctica x nemorosa – Barrickcrohan (S14267131, 12 July, forest road, first county record since 1934. Determined by Chris Metherell the BSBI Euphrasia referee.
Carex pallescens (Pale Sedge) – Bregorteen (S95852332), 18 July, overgrown forestry track. 2nd county record, first since 1944.
Gnaphalium sylvaticum (Heath Cudweed) – Ballyfarnoge (T08143149), 10 October, sandy heathy road verge.
Of the good plants I saw this year, while out recording my favourite was a single Misopates orontium (Weasel's-snout) on the side of a stubble field at Island Lower (T09335775).
Below are the new native species I added to the county's growing list:
Nitella opaca – Ballynamona (S81991947), 28 June, lots in drain. Determined by Nick Stewart, BSBI Stonewort referee.
Atriplex glabriuscula x prostrata – White Gap (T03670548), 6 September, edge of saltmarsh. Found in many sites during 2016.
Atriplex littoralis (Grass-leaved Orache) x Atriplex longipes (Long-stalked Orache) – 7 September, one large bushy plant on small beach by Wexford Bridge, Tincone, T05302248. Specimen confirmed by John Akeroyd the BSBI Atriplex Referee.
Atriplex x hulmeana ( littoralis x A. prostrata) – Grogan Burrow (T04450560), 6 September, one at top of saltmarsh with both parents.
Rumex x knafii ( conglomeratus x R. maritimus) – Ringbaun (T01840539), 10 September, one with both parents in reed bed. The first record for Ireland. Confirmed by Geoffrey Kitchener the BSBI Rumex referee.
Alchemilla glabra (Smooth Lady's-mantle) – Kilnahue (T12895988), 27 October, lots along edge of pasture above track.
Below is the long list of non-native species I added to the county:
Galanthus nivalis x plicatus – Knockmore (T07172634), 20 February, scattered clumps in roadside hedge.
Galanthus plicatus plicatus – Blastknock (S91421803), 27 February, clump on road verge.
Helleborus orientalis (Lenten-rose) – Monaseed (T08736453), 8 March, clump in roadside ditch.
Crocus tommasinianus x vernus – Park (S94720751), 10 March, one on verge where garden waste had been dumped.
Euphorbia oblongata (Balkan Spurge) – Bunclody (S90865554), 16 March, three on side of field below hedge.
Geranium yeoi (Greater Herb-Robert) – Newtown (T01502279), 29 March, one self-sown at base of roadside wall.
Eranthis hyemalis (Winter Aconite) – Ballyrankin (S94535311), 31 March, patch on wooded slope by ruin.
Helleborus viridis (Green Hellebore) – Ballyrankin (S94545310), 31 March, A number of patches under trees by ruin.
Lonicera involucrata (Californian Honeysuckle) – Ballinvunnia (T18534524), 8 April, large bush on river bank by bridge.
Saxifraga granulata (Meadow Saxifrage) – Garryvarren (T04553043), 11 April, nine clumps under a horse chestnut in field.
Fritillaria meleagris (Fritillary) – Adamstown (S86872720), 15 April, three on road verge, two with purple flowers, other with a white flower.
Allium roseum (Rosy Garlic) – Seafield (T20355990), 13 May, lots in graveyard.
Draba muralis (Wall Whitlowgrass) – Kilmichael (T24696654), 13 May, lots on drive.
Crassula tillaea (Mossy Stonecrop) – Rosslare (T09941443), 14 May, along grassy strip next to road for 30m.
Olearia paniculata (Akiraho) – Rosslare (T09751440), 14 May, bush self-sown at base of wall.
Rosmarinus officinalis (Rosemary) – Rosslare (T09751440), 14 May, bush self-sown at base of wall.
Potentilla indica (Yellow-flowered Strawberry) – Battlestown (S77260856), 15 May, road verge.
Briza maxima (Greater Quaking-grass) – Ballysheen (T11150663), 16 May, lots on road verge.
Verbena x hybrida – Coolgreany (T19046953), 2 June, one at base of wall on pavement.
Jasminum officinale (Summer Jasmine) – Greatisland (S68461574), 5 June, roadside hedge on site of ruin.
Solidago gigantea (Early Goldenrod) – Carrowanree (S73441605), 5 June, patch on road verge.
Potentilla fruticosa (Shrubby Cinquefoil) – Finchogue (S99553978), 11 June, one bush flowering in working quarry.
Fagopyrum esculentum (Buckwheat) – Kilbraney (S80742068), 6 September, many along roadside.
Guizotia scabra schimperi (Sticky Niger) – Screen (T08843055), one on rough ground with Ammi majus (Bullwort) and Echinochloa crus-galli (Cockspur).
Panicum schinzii (Transvaal Millet) – Shanowle (S87602240), 26 October, three at base of wall on roadside.
Nicotiana alata (Sweet Tobacco) – Wexford Town (T04192214), 1 November, three on rough ground.
Cotoneaster divaricatus (Spreading Cotoneaster) – Grange (S8509), 6 November, self-sown in roadside hedge.
Berberis buxifolia (Box-leaved Barberry) – Poulpeasty (S908240), 23 November, bush in roadside hedge.
Berberis thunbergii (Thunberg's Barberry) – Shortalstown (T01831397), 29 November, bush in roadside hedge.