The BSBI Annual General Meeting 2022 took place at 7.15pm on Thursday 17th November as an electronic meeting. The AGM was preceded by introductory talks; Mick Crawley gave a talk about the flora of London and BSBI Chief Executive Julia Hanmer provided a summary of BSBI's activities and successes over the past year.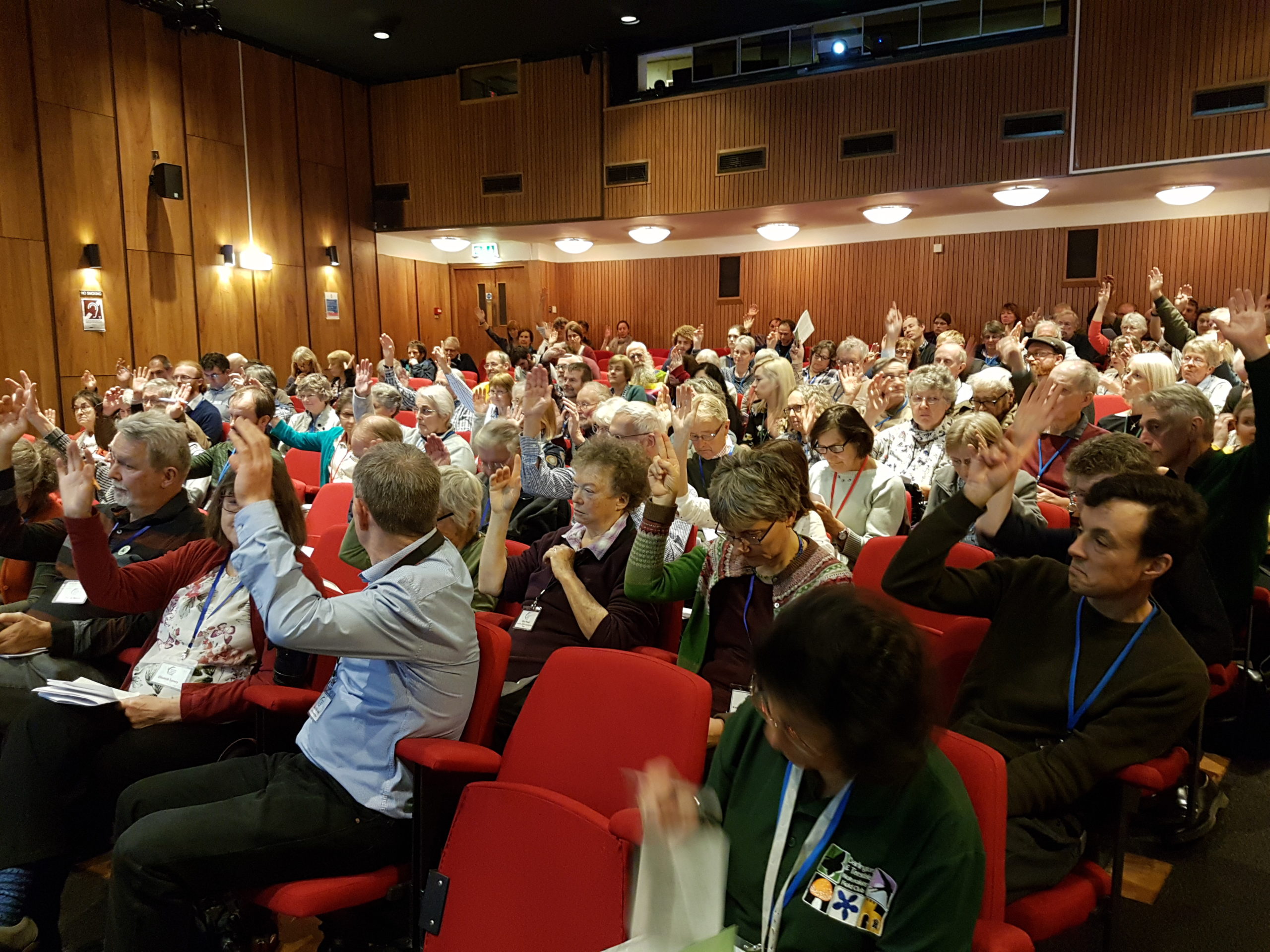 Biography of the President-elect
Micheline Sheehy Skeffington
Micheline was voted in as President-elect from November 2021.
Micheline has a PhD in salt marsh ecology and an academic background in botanical teaching and research. She also brings experience in writing, broadcasting, filming and lecturing, including in America on other issues especially the life and work of her feminist and nationalist grandparents. They were also early members of the Dublin Naturalists' Field Club, in which Micheline later played a strong role. During the last 'lockdown' (the oil crisis of 1979), the DNFC worked on a Flora of Inner Dublin, which Micheline co-authored with Peter Wyse Jackson in 1984.
Micheline joined the staff of the National University of Ireland Galway (NUI Galway) in 1980 as a lecturer in the Botany Department and worked there until 2014. She has published extensively on plant ecology with an interest in terrestrial ecosystems, especially wetlands including turloughs, peatlands, heathlands, river flood-meadows and salt marshes. She has also carried out research on sustainable farming for conservation, with special focus on grassland management for conservation. Her interest extends to sustainable agriculture in the tropics, with publications on Indonesian and Cuban sustainable forest and agricultural management.
In botanical circles, she is highly respected for her teaching, including in the field, which trained and inspired many of Ireland's younger botanists.
Micheline has been a member of BSBI for many years, acting as the vice-county recorder for South East Galway (H15) from 1982 to the present. Her recording activities continued during Covid lockdown, when she and her partner explored coastal habitats close to home by canoe, resulting in a small paper in Irish Botanical News ('Cochlearia danica -a pier review'). She joined the Committee for Ireland in November 1990, becoming its chair from 1993 to 1995, when the Committee hosted the BSBI AGM in Dublin. She had another stint on the Committee between 2012 and 2016, part of the time as vice chair and as a member of the Irish Officer Steering Group.
In 2011, she played a pivotal role in facilitating the use of NUI Galway as a base and organising the field excursions for the highly successful BSBI Annual Spring Meeting and AGM in 2011. As well as some exciting field visits, one of the memorable aspects of the meeting was an evening of traditional music.
Micheline comes from a revered Irish family. Her grandmother, Hanna and grandfather, Francis (also known as Frank), were both campaigners for the rights of women in the early part of the 20th Century. After Frank was shot in 1916, Hanna travelled to the US and spoke to huge audiences about the need for Irish independence and continued to be politically active on her return. Micheline's father was a lecturer in French in Trinity College Dublin and was an Irish Senator, elected by TCD alumni, with an independent voice.
Following the family tradition, Micheline herself took on her employer and won a landmark gender discrimination case against NUI Galway in 2014, which led to a successful campaign to promote five other women discriminated against in the same round and resulted in the Irish government insisting on fundamental changes in Irish universities.
She will be only the second BSBI President from the Irish Republic.
Biography of Ian Denholm, nominated for Honorary Membership
Ian Denholm
Ian Denholm is proposed for Honorary Membership in view of his long and significant service to the BSBI in many capacities, making a major contribution in educational, scientific and management roles, all of this voluntarily.
Ian was born and brought up on Anglesey, where access to diverse habitats ranging from coastal to montane fuelled a lifelong interest in natural history. His initial passion was for birds but plants became prominent following a move to Hertfordshire and time spent with John and Chris Dony, who generously introduced him to local species and habitats including the flagship National Nature Reserve at Knocking Hoe, Bedfordshire. At the same time a meeting with Richard Bateman strengthened a particular interest in orchids and fostered a research collaboration on Dactylorhiza that has endured to the present day.
After obtaining a BSc in Zoology at Manchester and a PhD in Genetics at Liverpool, and took up a postdoctoral position studying insect genetics and integrated pest management at Rothamsted Experimental Station (now Rothamsted Research) in Harpenden, Hertfordshire. His subsequent career at Rothamsted spanned 32 years, including 12 years as Head of the Plant and Invertebrate Department with leadership of c. 90 scientists, technical staff and postgraduate students. He travelled extensively, engaging in collaboration with researchers in the USA, Brazil, Israel, India, Pakistan, China and Australia (to name but a few). In 2012 he moved to a part-time teaching/research appointment at the University of Hertfordshire, where he retains a Visiting Professorship in the Department of Clinical, Pharmaceutical and Biological Sciences.
Ian has given a great deal of his time and expertise to the life of BSBI in a number of ways. He has served as joint referee with Richard Bateman for Dactylorhiza (and latterly for orchids in general) since the late 1980s. He became joint Vice-County Recorder for Hertfordshire (v.c.20) with Trevor James in 2017, and following Trevor's death has retained this role jointly with Alla Mashanova and Astrid Biddle. He joined Meetings Committee (now Events and Communications) in 2010 and was chair or joint chair until 2019. He joined the Executive Committee of BSBI in 2011 and served there until 2014 when he became a Trustee.
He served as BSBI President between 2013 and 2015. During this period he helped to oversee the incorporation of BSBI as a company limited by guarantee. This required the establishment of a new Board of Trustees, which Ian chaired until the end of 2018, and also coincided with the appointment of Jane Houldsworth as BSBI's first Head of Operations, removing a large amount of operational management from the trustees themselves. He has contributed fully to the work of the Board in that time chairing the Investment Committee, sitting on Nominations Awards and Governance committee and taking part in innumerable meetings to discuss initiatives, strategy development, advise staff and undertake recruitments. While serving as President, he developed with Louise Marsh a Publicity & Outreach strategy aimed at enhancing the external visibility of the society and strengthening its engagement with various social media platforms.
Ian took over as Editor-in-Chief of BSBI's New Journal of Botany in 2016 and has overseen its transformation into British & Irish Botany (B&IB) which started in 2019. This online open access scientific journal was designed to be more accessible to amateur authors and has now established itself  under his tireless editorship and reaches a wider audience including outside Britain and Ireland.
Ian has clearly played a significant role in a period when BSBI moved towards becoming more structured and secure in its governance and financial management. In all the things he has done he has done so with patience, listened to others views and proposed ways of keeping a consensus where possible.
A big part of Ian's contribution has been his enthusiasm for the more scientific aspects of the life of the Society and he has been a strong voice for the recording community and the use of BSBI data to protect and enhance plant biodiversity.
While Ian steps down from the Board  this year he continues in his current County Recorder and taxonomic referee roles and as editor of the B&IB journal although he has signalled a desire to step down from the latter. That means he will continue to be active within BSBI but may have more time to add to his impressive world lifelist for birds, which currently stands at 4461!