AGM 2021: the agenda and voting
Inside the September 2021 issue of BSBI News, members will find an invitation notice for the 2021 BSBI Annual General Meeting (AGM). It will be held electronically at 7.15pm on Friday 19th November 2021 and a joining link will be made available for BSBI members who register to attend. Here is the AGM 2021 final agenda, listing all nominations and resolutions to be voted on.
The agenda of the AGM includes Election of Trustees. Any member interested in becoming a Trustee, or making a nomination, may find more information on How to become a BSBI Trustee. On this occasion three serving trustees (Chris Miles, Sandy Knapp, Anthony Thomas) reach the end of their term of appointment; all are willing to serve for a further term and are nominated for re-election. Helena Crouch, co-opted as a Trustee during the year, is nominated for election. One serving Trustee, Prof. Alastair Fitter, retires so one vacancy for election occurs. Details of how to make any nomination for election to serve on the Society's Board of Trustees, to raise any matter on the agenda or to vote by proxy, are contained within the invitation notice for the 2021 BSBI Annual General Meeting. Deadline for this was extended to midday Saturday 16th October 2021 but has now closed. These details were also made available by post, by contacting the Company Secretary:
Steve Gater (Company Secretary)
28 Chipchase Grove, Durham DH1 3FA.
Email: steve.gater@bsbi.org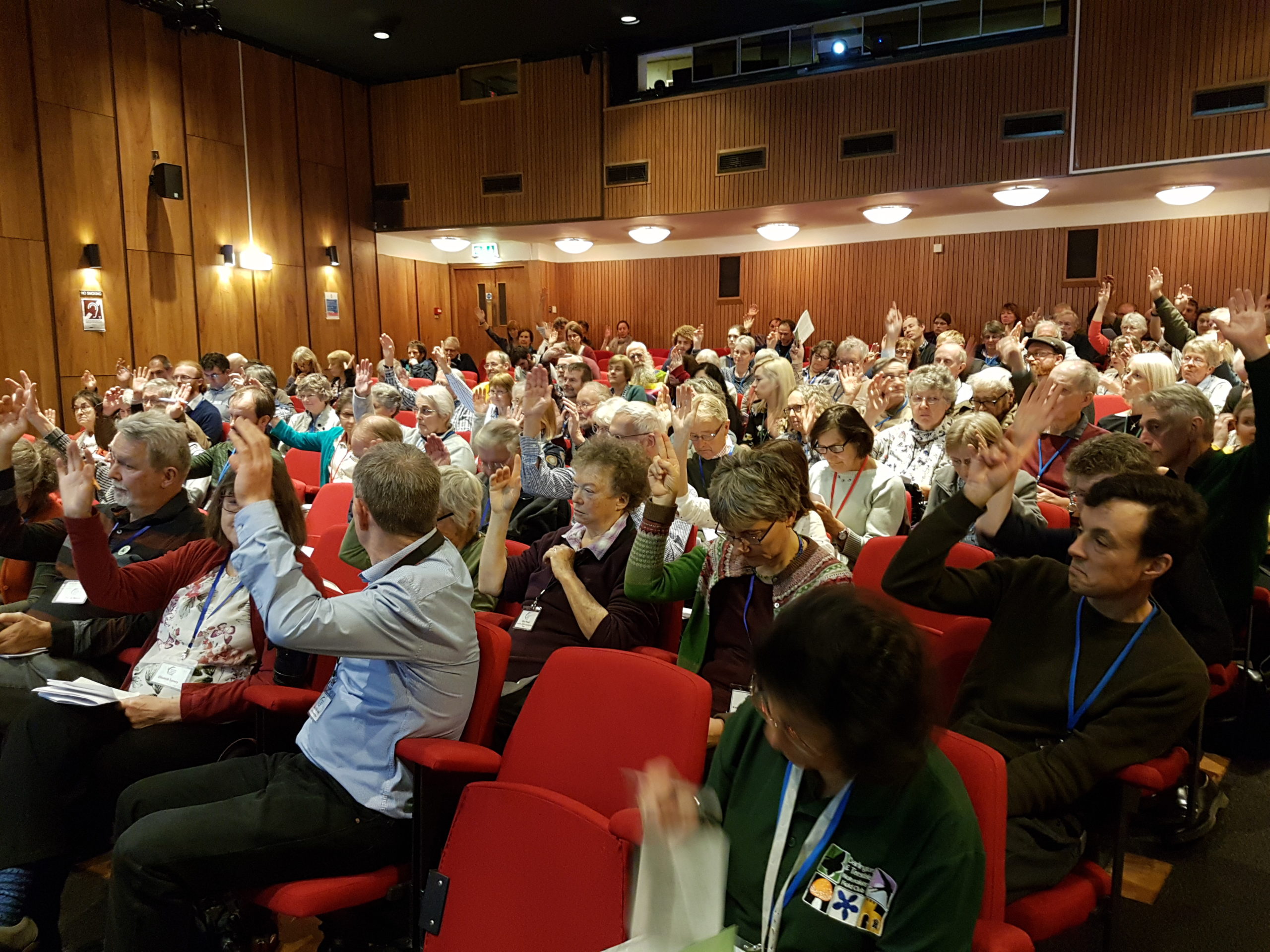 If you are a BSBI member then the AGM is your chance to have your say and participate in how the society is governed.
Paper copies of the AGM agenda 2021 were posted to all members on 30th Sept. 2021. We also encourage members to take a look in advance at the electronic copies which are available for download from this page.
Please follow this link for the AGM 2021 final agenda .
Please follow this link for the AGM 2020 draft minutes, which members attending the 2021 AGM will be invited to adopt.
Nominations 2021
The below nominees are nominated for elections as a Trustee to serve on BSBI's Board of Trustees:
Dr Helena Jane Crouch
Helena has a life-long interest in plants and gardening, and joined BSBI as a student in 1983. She has a Botany degree and a PhD in plant succession. Since moving to Somerset in 1997, she has led weekly botany walks for her local Cam Valley Wildlife Group and been an active member of Somerset Rare Plants Group, Somerset Botany Group, Bristol Naturalists' Society and Bath Natural History Society, of which she is a trustee. In 2006 Helena was appointed BSBI County Recorder for North Somerset: since then, she has been working on a Rare Plant Register for Somerset and written articles and papers for BSBI News, New Journal of Botany and British & Irish Botany.  She served on Science & Data (formerly Recording & Research) Committee for 9 years and was a member of BSBI Council for 4 years, becoming Secretary to Council from 2013 until its dissolution in 2020. Whilst mostly involved in voluntary activities, Helena has also been employed as a university library cataloguer, botanical editor and proof reader and as a botanical surveyor for Natural England, Somerset Wildlife Trust and Plantlife. Any spare time is spent gardening.
Kylie Jones
Kylie Jones leads the biodiversity team at Anglian Water, ensuring legal compliance with regard to wildlife legislation and is responsible for the biodiversity management of Anglian Water's 7000 hectare land estate including 49 SSSIs, 160 Local Wildlife Sites and many more that support priority habitat. Her role also involves contract managing a partnership environmental volunteer programme with the charity Keep Britain Tidy as well as being the plastics reduction strategy lead for the business. As part of this remit she chairs the East of England Plastics Coalition.
Kylie has a passion for plants and has previously taught a minor theme in botany to undergraduate zoology and wildlife conservation students at Anglia Ruskin University. In the past she used her company volunteering scheme to spend time at the Cambridge University Herbarium mounting and incorporating specimens.
Her membership of the BSBI commenced in 2011 and she subsequently joined what was the Meetings & Communications Committee in 2015, serving as Secretary of the Events & Communications Committee since 2019. With a real enthusiasm for the BSBI she is super-excited to help the Society in its journey following the Strategic Review.
Dr Sandy Knapp
Sandy Knapp is a botanist at the Natural History Museum, London whose work focuses on taxonomy, phylogenetics and evolution of the nightshades (Solanaceae), with a focus on the wild relatives of important crops like tomatoes, potatoes and eggplants. She has spent much time in the field collecting plants, mostly in South America. She manages Flora Mesoamericana – an international Spanish-language inventory of the approximately 18,000 species of plants of southern Mexico and Central America. She is actively involved in promoting the role of taxonomy and the importance of botanical science worldwide. She is the author of several popular books on plants, including the award-winning Potted Histories (2004) and most recently Extraordinary Orchids (2020). She is a recipient of the Peter Raven Outreach Award from the American Society of Plant Taxonomists for her work public engagement with science, the UK National Biodiversity Network's John Burnett Medal for her work in biodiversity conservation, the Linnean Medal in Botany, and the Rolf Dahlgren Prize for excellence in botany; she holds honorary professorships at University College London and Stockholm University. She is an elected member of the American Academy of Arts and Sciences, the Academia Nacional de Ciencias of Argentina and Academia Europeana.
Dr Chris Miles 
I have been the BSBI vice county recorder in Dumfriesshire since 1996 starting from scratch a few years before the last Atlas deadline. Since retiring I set up the Dumfriesshire Botany Group who have now been meeting for 4 years including a few meetings of restricted numbers in 2020. I have now completed two Rare Plant Registers for Dumfriesshire.
I was a member of the BSBI Scottish Committee for several years including a stint as Chair. I sat on the review group for BSBI in 2016/17. I joined the Board at the November 2017 AGM and became Chair in January 2019. In that time the Board has overseen the development and adoption of a new Strategy, dealt with the consequences of Covid while strengthening the Society in terms of membership and finances and appointed our first Chief Executive.
Elsewhere I am Chair of the Southern Uplands Partnership, Hutton Community Fellowship and the Dumfriesshire East Community Benefit SCIO. The last two distribute wind farm funds via grants to deliver benefits to the local community. In addition I have just led the work which has secured a £1.3m loan to purchase a share in the Crossdykes windfarm for the community.
Mr Anthony Thomas
A mere geographer who has grown to recognise the importance of plants and the need for their conservation. Most of my career has been spent working in the outdoors with the Field Studies Council, initially at Malham, then Snowdonia followed by the management of a centre and a coastal SSSI at Slapton Ley. My final 25 yrs were in the old farm buildings of  Preston Montford, at FSC Head Office as Director of the FSC. A memorable achievement was persuading the Publications Committee of the FSC to support the development and production of foldout keys. I became a Trustee of BSBI in 2018 and presently am a member of the Investment Committee and a working group on marketing. My past charitable involvement has been as the Chair of the Education Committee Shropshire Wildlife Trust; Council member of the Royal Geographical Society; Chair of the Wildfowl and Wetlands Trust; Chair of the RSPB Marketing and Communications Committee; Chair of the Council for Learning Outside the Classroom. I remain Chair of Pearson/Edexcel AS Level and GCSE Geography committees. Spare time is filled with becoming a Forest School leader, rugby and ballet.
The below nominee is nominated for election as President-elect of the Society:
Dr Micheline Sheehy Skeffington
Micheline is proposed as President-elect from November 2021.
Micheline has a PhD in salt marsh ecology and an academic background in botanical teaching and research. She also brings experience in writing, broadcasting, filming and lecturing, including in America on other issues especially the life and work of her feminist and nationalist grandparents. They were also early members of the Dublin Naturalists' Field Club, in which Micheline later played a strong role. During the last 'lockdown' (the oil crisis of 1979), the DNFC worked on a Flora of Inner Dublin, which Micheline co-authored with Peter Wyse Jackson in 1984.
Micheline joined the staff of the National University of Ireland Galway (NUI Galway) in 1980 as a lecturer in the Botany Department and worked there until 2014. She has published extensively on plant ecology with an interest in terrestrial ecosystems, especially wetlands including turloughs, peatlands, heathlands, river flood-meadows and salt marshes. She has also carried out research on sustainable farming for conservation, with special focus on grassland management for conservation. Her interest extends to sustainable agriculture in the tropics, with publications on Indonesian and Cuban sustainable forest and agricultural management.
In botanical circles, she is highly respected for her teaching, including in the field, which trained and inspired many of Ireland's younger botanists.
Micheline has been a member of BSBI for many years, acting as the vice-county recorder for South East Galway (H15) from 1982 to the present. Her recording activities continued during Covid lockdown, when she and her partner explored coastal habitats close to home by canoe, resulting in a small paper in Irish Botanical News ('Cochlearia danica -a pier review'). She joined the Committee for Ireland in November 1990, becoming its chair from 1993 to 1995, when the Committee hosted the BSBI AGM in Dublin. She had another stint on the Committee between 2012 and 2016, part of the time as vice chair and as a member of the Irish Officer Steering Group.
In 2011, she played a pivotal role in facilitating the use of NUI Galway as a base and organising the field excursions for the highly successful BSBI Annual Spring Meeting and AGM in 2011. As well as some exciting field visits, one of the memorable aspects of the meeting was an evening of traditional music.
Micheline comes from a revered Irish family. Her grandmother, Hanna and grandfather, Francis (also known as Frank), were both campaigners for the rights of women in the early part of the 20th Century. After Frank was shot in 1916, Hanna travelled to the US and spoke to huge audiences about the need for Irish independence and continued to be politically active on her return. Micheline's father was a lecturer in French in Trinity College Dublin and was an Irish Senator, elected by TCD alumni, with an independent voice.
Following the family tradition, Micheline herself took on her employer and won a landmark gender discrimination case against NUI Galway in 2014, which led to a successful campaign to promote five other women discriminated against in the same round and resulted in the Irish government insisting on fundamental changes in Irish universities.
She would be only the second BSBI President from the Irish Republic.
The below nominee is nominated for election as an Honorary Member of the Society:
Dr Sarah Whild
Sarah is proposed for Honorary Membership in recognition of her significant impact on raising the profile of botanical training and her many other long-standing contributions to the work of BSBI.
Sarah learned plants early with her mother while her father played golf. Ian Trueman VCR Shropshire got her further enthused and involved with the Shropshire Flora Project from 1979 onwards. In 1991, when on maternity leave, Sarah took on coordinating the records for VC40, and started putting them on to Recorder. She took over as VC recorder from Ian Trueman in 1998  and with Alex Lockton, set up the Shropshire Botanical Society. Sarah coordinated and wrote the latest Flora and Vegetation of Shropshire (published in 2015) jointly with Alex Lockton. They have also produced three editions of "Rare Plants of Shropshire" and many 'site floras' that were published by the Shropshire Botanical Society.
After working for the Shropshire Wildlife Trust and the Nature Conservancy Council Sarah started working as an ecological consultant. She also started work at the University of Birmingham as a Lecturer in Plant Ecology in 1995. She worked with Sue Townsend at the Field Studies Council, to set up a series of awards based on actual field identification skills. They jointly pioneered the field skills pyramid, presented to the British Ecological Society in 2000, and from there, developed methods of teaching field ID and assessing competence.
In 1997, Sarah was invited to join BSBI Council, and remained on Council/Executive/the Board until forced to resign through ill health in 2019. In 2005 Sarah was asked to chair the newly formed Training and Education Committee, with Sue Townsend as Secretary. They started annual Training the Botanical Trainers workshops, and produced the handbook.  They also developed a reliable method for Field Identification Skills Certificates (FISCs). During her time Sarah wrote and edited many of our current training materials for example "So You Want to Know Your Plants", and the BSBI Code of Conduct (with Fred Rumsey).
In 2012, Tim Rich and Sarah did a New Year Plant Hunt in Cardiff and did a press release starting what was by 2021 an annual event attracting over 1800 people.
Despite ill health in recent years Sarah remains joint VCR for Shropshire and continues verifying data that is then input by Alex Lockton, her co-recorder. She continues to co-ordinate FISC delivery and is on the FISC working group exploring how FISC may be taken forward by BSBI.