Thank you to everyone who has registered to attend. We have sent out links by email to join the Zoom webinar at 12.30 on Saturday.
The BSBI Annual General Meeting 2020 will take place at 12.30 on Saturday, midway through the the Annual Exhibition Meeting. 
Due to restrictions around Covid-19, the meeting will take place virtually this year.
Registration for the meeting has now closed.
AGM 2020: the agenda and the voting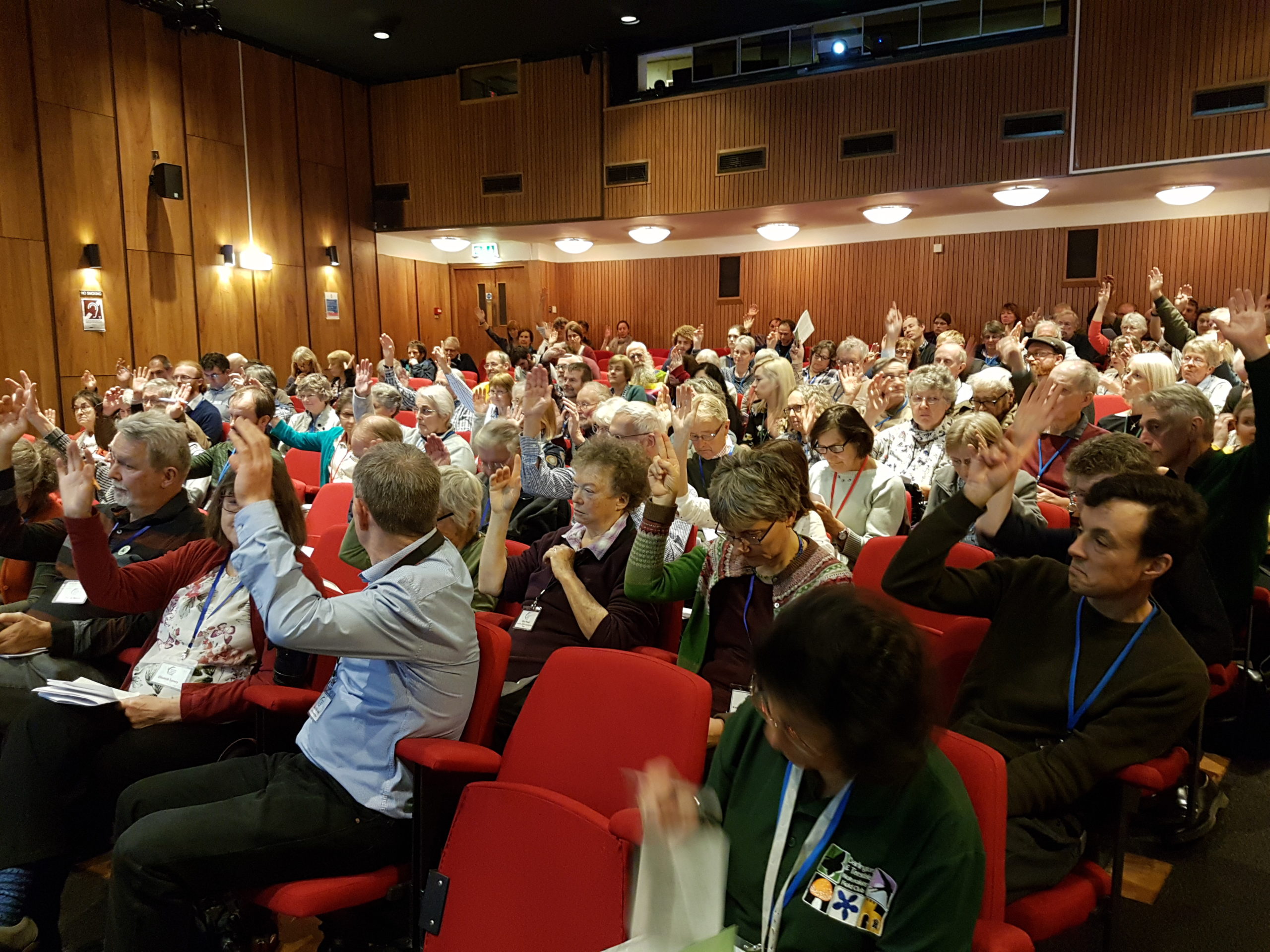 Don't forget, if you are a BSBI member then the AGM is your chance to have your say and participate in how the society is governed.
Paper copies of the AGM agenda 2020 and the Annual Review April 2019 - March 2020 have been posted to all members (Sept. 2020) and we also encourage members to take a look in advance at the electronic copies available for download from this page.
Paperwork for the AGM
Files are listed in the same order as they appear on the agenda. Click on the link to view or download the file:
Nominations to the Board of Trustees
Dr Paul Bisson
After a working life in the arts, heritage and charity sectors, Paul and his wife took slightly early retirement to create a new garden in Shropshire in 2015. In 2016 he was invited to join BSBI's Board of Trustees; he is also a member of the Investment Committee. Paul's interest in plants began at the age of about 50 when he took two part-time horticultural courses at RHS Harlow Carr (Harrogate) and Craven College (Skipton). Though he is not a botanist, Paul is "very keen to support wildlife, conservation and environmental charities through my experience of fundraising and charitable governance".
Dr Chris Cheffings
Chris has been a member of BSBI for 35 years – a lifetime of passion for plants. During that time span she has been awarded a doctorate in plant sciences, researched plant ecophysiology, and more recently worked in nature conservation. Currently she is a team leader at the Joint Nature Conservation Committee, with particular responsibility for species surveys and data analysis. Spare time is often spent in the field, particularly in Hertfordshire and Cambridgeshire.
 Michael John Crawley
In research, Mick is recognised as the individual who defined herbivory as a separate ecological discipline. He was responsible for designing and executing the first field-based risk assessment experiments for genetically engineered plants. His long-term experiments at Imperial College's field station at Silwood Park have been the inspiration for numerous international studies. His work was recognized by election to the Royal Society of London in 2002. He is BSBI County Recorder for two vice-counties for which he has authored full-length Floras: Berkshire in England and East Sutherland in Scotland. Naturalists know him as joint author (with Clive Stace) of the recent Collins New Naturalist book on Alien Plants
Mary Dean
Mary began her career in Information Technology, working for a large Insurance company, gaining experience in all stages of IT projects and project management. In 1999 she changed career to follow her love of plants and wildlife, undertaking a PhD at Edge Hill University, studying sedges. She has taught biology and botany in the Higher Education sector to students up to Masters level. Mary has been a BSBI Council member since 2011 and is Field Meetings Secretary for the recently formed Committee for England. She lives on north Merseyside and, in a voluntary capacity, is involved with several local and national wildlife organisations.
 John Faulkner
John has lived in Co. Armagh for 50 years, and been its County Recorder for nearly 30 of them. He has had various other roles in BSBI, including two years as the Society's President, three stints on the Committee for Ireland, and one as de facto County Recorder for Co. Louth. He studied Botany at Oxford and did a D. Phil. on sedges. Returning to family roots in Northern Ireland, he worked as a grass breeder and lecturer in Agricultural Genetics for 16 years, while developing an interest in local natural history and chairing the Ulster Wildlife Trust through its infancy. The next phase of his career was spent in Government Conservation in Northern Ireland, ending as Director of Natural Heritage in what was then known as the Environment and Heritage Service.  One of his ambitions in retirement is to help restore an interest in plants at all levels of society. 
Steve Gater
Steve has been BSBI Company Secretary since 2018; he is currently co-opted to the Board of Trustees and serving as Honorary Secretary. Steve is a retired teacher/ headteacher, with a life-long professional and amateur interest in wildlife and conservation. Former Chair of Durham Wildlife Trust (DWT), Steve chairs related bodies and is Secretary of DWT botany group. He is an active botanist in Upper Teesdale, is editor of the latest edition of The Natural History of Upper Teesdale and is working on similar account of Weardale. Steve leads wildlife group trips and holidays, and is engaged in botanical training. He has extensive experience of leadership governance training and application in public and voluntary sectors.