County Recorders' Annual Reports
About Anglesey
Anglesey is a very large Island off the NW coast of Wales and is often crossed but seldom visited by those travelling to Ireland via Holyhead. Until 1826 it was unconnected to the Mainland and the Irish MPs had a rough journey overland and on ferries over the treacherous Menai Straits en route to Westminster!
It is easier to get here now, by road and rail, using our glorious bridges and to explore the wonderfully varied coastline, unique fens, sandy beaches and delightful small towns.
The Island is building a reputation for locally sourced food and used to be called 'The Mother of Wales/ Mam Cymru' as it produced quantities of cereals and wine in Roman times.
Anglesey Rare Plant Register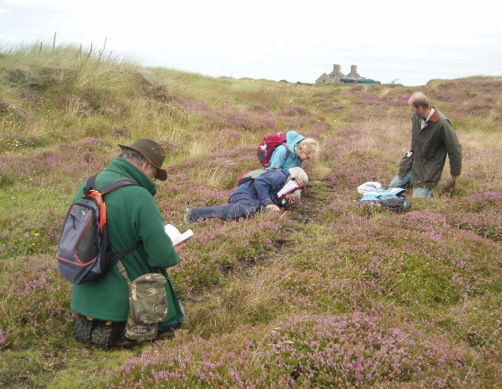 Welsh Botanology
Hugh Davies "Welsh Botanology", the first flora of Anglesey, and the first of any Welsh County, can be downloaded from Google Books.
It is a fascinating read, although be warned, as an Anglesey born and educated Welsh speaker, his Welsh is a bit old fashioned, even for 1813, and his Latin is mediaeval, rather than classical, but both are readable.
As someone who has identified Hypericum androsaemum on Llandwyn Island by the scent of the leaves, I particularly liked his disambiguation of "Dail Twrch". Yes, Hugh Davies bach, they really do smell of boars' piss!
Half of the book is in English, so non-Welsh speakers should not be put off. His sections on liverworts,  mosses and fungi are equally thorough, and the comments (in the Welsh section) on the treatments of common ailments make this a Herbal as well.
Local information
Visit Anglesey is the place to start if you want to find out more. There is a Walking Festival every June.
Anglesey Flora Group
The group has been busy for many years. Its aims are to explore the Island and record the flora in each monad, contributing towards a revised Anglesey Flora and the next Atlas of the British Flora (2020). We will also make special note of any rare and scarce taxa, to update the Rare Plant Register. Group members are encouraged to share knowledge with one another and attract more active botanists into the field and to join the Botanical Society of Britain & Ireland (BSBI). *NEW* A review of the group's finds in 2019 is available here.
*NEW*This BSBI poster by Robbie Blackhall Miles produced for the 2019 Annual Exhibition Meeting summarises the highlights of the island's flora.
We organise an annual programme of field visits and the one for the current year is available from Nigel Brown