Suggestions of things to bring to a Summer Meeting:
Hand lens
GPS (if you have one)
Your preferred ID book(s)
Lunch and a drink
Sunblock
Waterproofs
If you have any queries please contact fieldmeetings@bsbi.org 
If you book on a BSBI meeting, we only hold the information requested in order to administer the event advertised. We will treat your information as confidential, hold it securely and will never pass it on to third parties.
Your information will be deleted within 6 months of the event taking place.
The lawful basis for processing this data is defined under GDPR regulations as contractual. You can request to see the data we hold on you at any time and we will remove you from our systems and discontinue contact at your request: just email enquiries@bsbi.org and mark your email 'Unsubscribe'.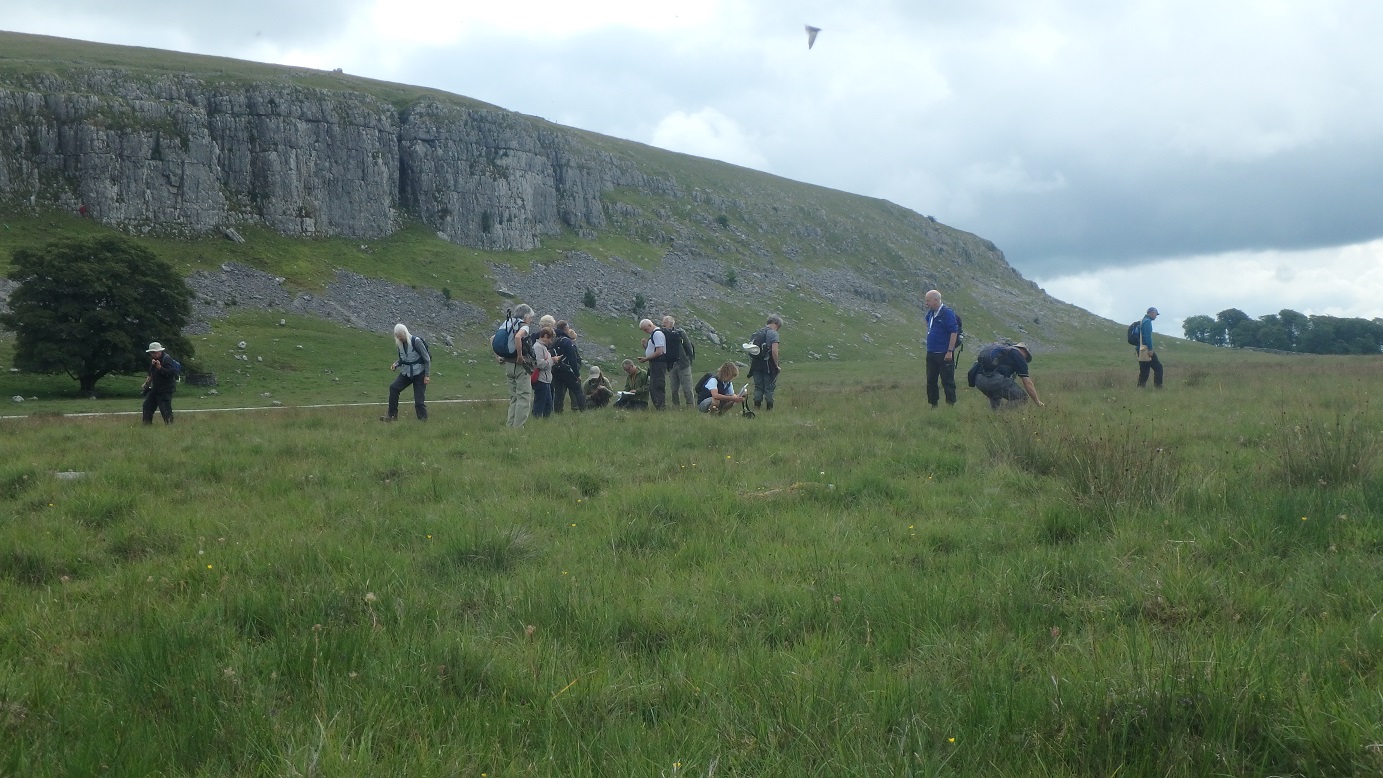 Botanists at Great Close Scar, ASM 2019. Image: David Morris
Annual Summer Meeting 2018
The 2018 Annual Summer Meeting (ASM) ran from Monday 16th to Monday 23rd July and was based at King William's College, Castletown on the Isle of Man. The meeting included site visits, recording outings, hunts for rare species, talks and ID sessions. It was a joint meeting with the British Bryological Society, so there were lots of chances to learn about mosses, liverworts and hornworts.
Click on the links to read daily reports about the meeting: Day 1, Day 2, Day 3, Day 4, Day 5, Day 6, Day 7, Day 8.
So, how may records were collected during the ASM towards Atlas 2020?
Organiser Jonathan Shanklin reports: "I've typed in 20 record cards, some of these rather short records made of a field whilst in transit, others all day visits to a site, monad or tetrad. Philippa Tomlinson, the County Recorder for the Isle of Man, has additional cards, so the following is not a complete picture of the ASM.
"In all I entered 1926 records of 489 species (not counting liverworts, ladybirds and other incidental records). The most common plant was Anthoxanthum odoratum figuring on every card, closely followed by Holcus lanatus and Agrostis capillaris. 60 species had 10 or more records, 149 had five or more, whilst 178 had only one.
"The median number was two records, illustrating the high diversity of flora that we encountered across the island".

Annual Summer Meeting 2017
Monday 5th to Friday 9th May: Holywell, Flintshire
The 2017 Summer Meeting was based at the Stamford Gate Hotel in Holywell, Flintshire (VC51). The meeting aimed to help recording in the county for Atlas 2020, but also included site visits to coastal dunes and limestone grassland. There were exhibits, a bookstall, after dinner talks and ID sessions and an opportunity to socialise. You can read linked daily reports from the 2017 Summer Meeting on the BSBI News & Views blog, posted each evening by Organiser Jon Shanklin, BSBI's Field Meetings Secretary. The first report is here and the final one is here. BSBI members will also be able to read how successful the week was and how much fun participants had by reading an account in the January 2018 issue of BSBI News. 
Annual Summer Meeting 2016
Thursday 19th to Monday 23rd May: Lowland Cumbria
The 2016 Summer Meeting was based at the Field Studies Council Blencathra Centre near Keswick in Cumbria. The meeting introduced participants to the flora of lowland Cumbria by a mix of site visits, talks, workshops and tetrad and site recording. After dinner each evening, there were talks to set the scene or identification workshops to discuss interesting or difficult specimens found during the day.
One of the main aims of the meeting was to help fill in some of the blank squares in the vice-county. You can find out whether we managed to do that in daily reports from the 2016 Summer Meeting on the BSBI News & Views blog here, here and here, posted each evening by Organiser Jon Shanklin, BSBI's Field Meetings Secretary.