In light of Covid-19, the BSBI Trustees cancelled all BSBI field meetings after February 2020. The safety of members and others is most important. Leaders of BSBI local groups were asked to note that they could not run events under the BSBI name, and we couldn't advertise or offer support or insurance for those local group events.
Hopefully we'll be able to resume field meetings and events at some stage in 2021, but only when government guidance allows. Until restrictions are lifted, all planned events remain provisional. The BSBI Trustees continue to closely monitor the situation and will issue advice on changes as promptly as possible. In the meantime, if you choose to go out botanising individually or with a few others, you must follow all current government guidance around social distancing and other Covid-19 prevention measures, as well as more general safe practices for field work. If you have any questions, please feel free to get in touch with our Hon Gen Sec Steve Gater.
The Annual Summer Meeting (ASM) is the big field meeting of the year for the whole of the BSBI. It moves around the regions of the BSBI to give people a chance to see different habitats and flowers. It is open to everyone – you don't have to be a BSBI member or an experienced botanist.
The ASM is a great opportunity to see some fabulous wildflowers in beautiful habitats and in the company of friendly botanists from across Britain and Ireland, so we hope you can join us in 2020.
BSBI Annual Summer Meeting 2020
This year's Annual Summer Meeting will be held between 10-13 July in the small Scottish Borders town of Melrose, Roxburghshire, a small, attractive town with numerous cafes, boutiques and popular tourist spots including Melrose Abbey and The Eildon Hills National Scenic Area. Much of the local area is rural, with gently rolling hills and a great variety of lowland and marginal habitats. Of special interest are the numerous basin mire fens, many of which are calcareous, which together form the largest concentration of this botanically rich habitat in the UK.
Several nationally rare and scarce plant species occur including Hierochloe odorata (Holy Grass), Calamagrostis stricta (Narrow Small-reed), Corallorhiza trifida (Coralroot Orchid), Potamogeton coloratus (Fen Pondweed) and Carex approproquintata (Fibrous Tussock-sedge). Several Marl Lochs are present in the same landscape, hosting a diverse Potamogeton (Pondweed) and Charophyte assemblage including the Nationally Rare Chara rudis (Rough Stonewort) and Nationally Scarce Chara aculeolata (Hedgehog Stonewort). A wide range of high-quality lowland habitats are also within easy reach of the town from calcareous grassland with Dianthus deltoides (Maiden Pink) and abundant Helianthemum nummularium (Rock-rose) to arable fields with Fumaria purpurea (Purple Ramping-fumitory). Flushed calcareous grasslands are also locally frequent, some with Blysmus compressus (Flat Sedge) and Dactylorhiza incarnata (Early Marsh-orchid). Woodland remnants are scattered in the area but can be rich with charismatic species such as Paris quadrifolia (Herb Paris) and Neottia nidus-avis (Bird's-nest Orchid). For those who are hill fit at least one excursion will be made to the Moffat Hills SSSI, which hosts the richest assemblage of alpine plants in the Southern Uplands including Carex atrata (Black Alpine-sedge) and Carex capillaris (Hair Sedge).
A wide range of activities are on offer to suit all interests ranging from tutorials for beginners and improvers on groups such as grasses, sedges, rushes and pondweeds; several expert-lead field trips to classic local botanical sites and opportunities to enjoy some botanical recording in small groups.
We plan to use the Waverley Castle Hotel in Melrose as a base and we will have short local excursion on the Friday morning before a simple lunch at the hotel at 1pm followed by afternoon field trips and three further days of field meetings. So, you can make the weekend 2.5, 3 or 4 days long. There will be after-dinner talks and activities. The Waverley Castle Hotel does a great three-night DB&B deal but has a limited number of single rooms. Alternatively, share a twin with a friend, or there are plenty other hotels, guest houses and B&Bs in the area.
Note that all accommodation should be booked directly with providers.
There will be a charge of £10 per person for a soup and sandwich lunch on Friday and a small flat rate admin charge of £20, which everyone must pay. There is an overall limit of 45 on the meeting - regardless of where you plan to stay.  Consequently, if you have booked accommodation already - book your place asap.  If you have yet to book accommodation, check that there are places available before booking accommodation.
Suggestions of things to bring to a Summer Meeting:
Hand lens
GPS (if you have one)
Your preferred ID book(s)
Lunch and a drink
Sunblock
Waterproofs
If you have any queries please contact fieldmeetings@bsbi.org 
Annual Summer Meeting 2021 will be held on Guernsey. 21-28 May. Put the date in your diary now; further info will be posted here when available.

If you book on a BSBI meeting, we only hold the information requested in order to administer the event advertised. We will treat your information as confidential, hold it securely and will never pass it on to third parties.
Your information will be deleted within 6 months of the event taking place.
The lawful basis for processing this data is defined under GDPR regulations as contractual. You can request to see the data we hold on you at any time and we will remove you from our systems and discontinue contact at your request: just email enquiries@bsbi.org and mark your email 'Unsubscribe'.
Annual Summer Meeting 2019
The 2019 Summer Meeting was held from Saturday 13th to Friday 19th July at FSC Malham Tarn, Yorkshire (v.c. 64) and featured a mix of excursions to important plant areas and visits to under-recorded tetrads for Atlas 2020.
Click on the links to read daily reports about the meeting: Run-up & Day One, Day Two, Day Three, Day Four, Day Five, Day Six and a Postscript. Many thanks to David, Dave, Colin, Kate, Chris and organiser Jonathan for sending these reports and photographs of the meeting.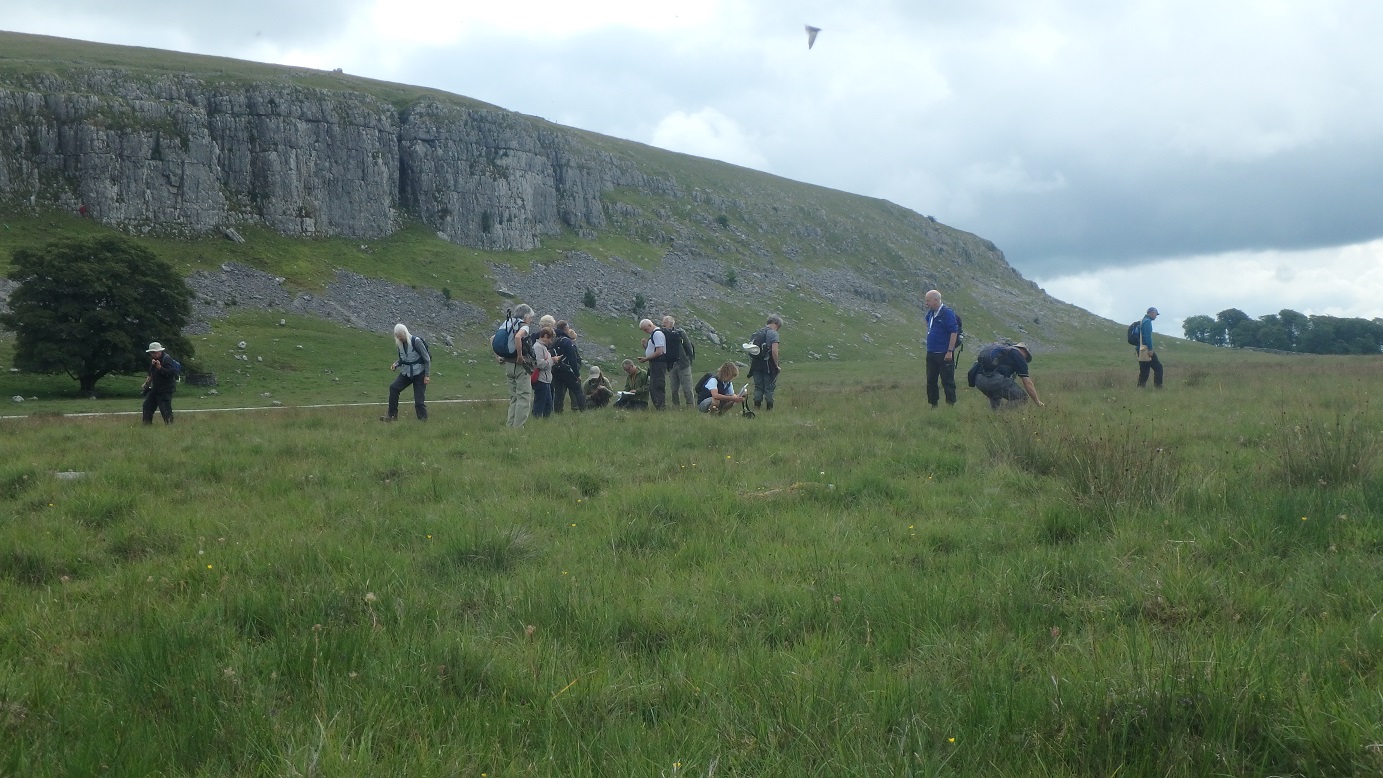 Botanists at Great Close Scar, ASM 2019. Image: David Morris
Annual Summer Meeting 2018
The 2018 Annual Summer Meeting (ASM) ran from Monday 16th to Monday 23rd July and was based at King William's College, Castletown on the Isle of Man. The meeting included site visits, recording outings, hunts for rare species, talks and ID sessions. It was a joint meeting with the British Bryological Society, so there were lots of chances to learn about mosses, liverworts and hornworts.
Click on the links to read daily reports about the meeting: Day 1, Day 2, Day 3, Day 4, Day 5, Day 6, Day 7, Day 8.
So, how may records were collected during the ASM towards Atlas 2020?
Organiser Jonathan Shanklin reports: "I've typed in 20 record cards, some of these rather short records made of a field whilst in transit, others all day visits to a site, monad or tetrad. Philippa Tomlinson, the County Recorder for the Isle of Man, has additional cards, so the following is not a complete picture of the ASM.
"In all I entered 1926 records of 489 species (not counting liverworts, ladybirds and other incidental records). The most common plant was Anthoxanthum odoratum figuring on every card, closely followed by Holcus lanatus and Agrostis capillaris. 60 species had 10 or more records, 149 had five or more, whilst 178 had only one.
"The median number was two records, illustrating the high diversity of flora that we encountered across the island".
Annual Summer Meeting 2017
Monday 5th to Friday 9th May: Holywell, Flintshire
The 2017 Summer Meeting was based at the Stamford Gate Hotel in Holywell, Flintshire (VC51). The meeting aimed to help recording in the county for Atlas 2020, but also included site visits to coastal dunes and limestone grassland. There were exhibits, a bookstall, after dinner talks and ID sessions and an opportunity to socialise. You can read linked daily reports from the 2017 Summer Meeting on the BSBI News & Views blog, posted each evening by Organiser Jon Shanklin, BSBI's Field Meetings Secretary. The first report is here and the final one is here. BSBI members will also be able to read how successful the week was and how much fun participants had by reading an account in the January 2018 issue of BSBI News. 
Annual Summer Meeting 2016
Thursday 19th to Monday 23rd May: Lowland Cumbria
The 2016 Summer Meeting was based at the Field Studies Council Blencathra Centre near Keswick in Cumbria. The meeting introduced participants to the flora of lowland Cumbria by a mix of site visits, talks, workshops and tetrad and site recording. After dinner each evening, there were talks to set the scene or identification workshops to discuss interesting or difficult specimens found during the day. One of the main aims of the meeting was to help fill in some of the blank squares in the vice-county. You can find out whether we managed to do that in daily reports from the 2016 Summer Meeting on the BSBI News & Views blog here, here and here, posted each evening by Organiser Jon Shanklin, BSBI's Field Meetings Secretary.