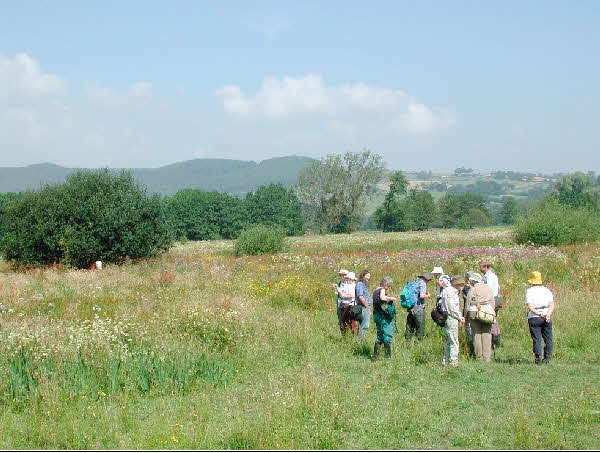 Rare Plants of Herefordshire
Les Smith, Mark Jannink and Peter Garner have been working on this book for several years and it is due to be published later in 2017. 
Field Meeting 23/24 July 2016
HEREFORDSHIRE - VC36 RUBUS FORAY
Leader – Rob Randall
Saturday July 23rd meet 11 00am at Kilpeck Church [SO445305] in preparation for a start on Wormbridge Common.
Sunday July 24th meet 11.00 am at Wilton Road, Ross-on-Wye in car park [SO593240] by Wilton Bridge.
Beginners will be welcome. Anyone wishing to collect should bring secateurs and thick skin or gardening gloves, and something to put specimens in. I will give a brief introduction and tips on collecting.
Contact for enquiries Peter Garner petergarner@live.co.uk 01684 564957 or on the day 07968074529. 
Herefordshire Botanical Society
Founded 1951, the society aims to help the conservation of plants and their habitats, and exists  for all who enjoy wild plants and wish to learn more about them. Field meetings are organised throughout the year and are open to anyone interested in botany. For more information please contact the membership secretary, Heather Colls (heather.colls@btinternet.com) or Judith Oakley, secretary (joakleyto@talktalk.net).
Membership costs £7, or £9 household membership. Please make cheques payable to Herefordshire Botanical Society and send to Heather Colls, The Steppes Cottage, Jingle Street, Wonastow, Monmouth NP25 4DL. 
Bonkers on Botany – BoB
BoB is a group of people who enjoy botanising in Herefordshire. All levels welcome from complete beginners to experts.
There are regular meetings during the recording season and all the details are on the BoB Facebook page which will be updated regularly. (Please note you do not have to be on Facebook to see this page.)
https://www.facebook.com/pages/Bonkers-on-Botany/1523931367886910