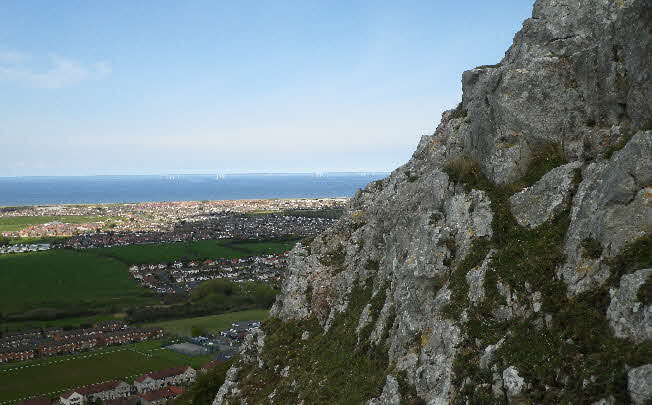 County Recorder
Please enter records via Cofnod (North Wales Record Centre) web site or email to Emily. 
The county of Flintshire
Flintshire  is a small county in the north east corner of Wales. Bounded on the north by coast and the Dee Estuary and to the west by the Clwydian Hills. It has a diverse landscape with, the hills reaching 554 m and down to the lowlands in the east, where it boarders the Cheshire Plains. A range of habitats can be found: dunes, saltmarsh, limestone grasslands, disused lead mines, woodlands, lakes, rivers, moorland and industrial sites. 
Field Meetings in 2018
*NEW* Please note the dates below for this year's BSBI meetings in Flintshire.  All meetings aim to explore the flora of under-recorded tetrads and contribute towards Atlas 2020 as well as improving our plant ID and of course having fun! All meetings start at 10am and we expect to finish around 4 / 4.30pm. Joining instructions and full details of meeting points are available from Gail Quartly-Bishop.
April 21st - SJ17I Lloc West
Group leader: James Towers. Meet at 10am at Misty Waters Pub (SJ134770). Lots of woodland and not many records, although there are some interesting records for ancient woodland indicator species. 
May 19th - SJ17F Afon-wen
Group leader: Julie Rose. Meet at the Afon-wen craft centre at 10am (SJ131714) but please park on the lane rather than at the craft centre - car-sharing advised. Quite a few old records of interesting things associated with former marl pits north and south of the main road, including Ophioglossum vulgatum, Salix triandra, Equisetum variegatum, Galium uliginosum, Filago minima and assorted orchids, Campanula trachelium etc.
June 16th - SJ07J Rhuddlan NE
We continue our mission to fill in under-recorded squares around the town of Rhuddlan.  Interesting historical records include Sinapis alba, Sanguisorba officinalis, Rorippa amphibia, Puccinellia distans, Oenanthe lachenalii, Lysimachia vulgaris, Lema gibba, Crepis paludosa, Carex disticha, Geranium pusillum, Minuartia verna, Carex divulsa.
July 14th - location TBC
Field gentian hunt at Cefn Mawr with the quarry ecologist Pauline Michell.  Counts on behalf of the Species Recovery Trust.
August 4th - SJ17M Babell racecourse and surrounding tetrad
Unbelievably, we only have 80 post-2000 records for this site, including some collected during the bramble meeting in 2015 and by yourself in 2014.  There are many interesting records not yet re-found, including Catabrosa aquatica, Galeopsis speciosa, Lepidium heterophyllum, MInuartia verna, Sparganium emersum.  I am sure we can manage 200 records from this one tetrad in one day if enough people turn up !
September 15th - SJ25I Treuddyn west
Something a bit different, wet acid habitats on the edge of Nercwys Forest.  A record of Fallopia sachalinensis needs checking and there are plenty of records for plants such as Vaccinium oxycoccos not usually recorded on Flints BSBI meetings.