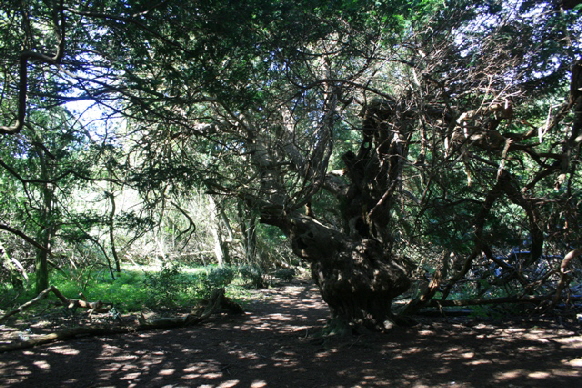 Yew (Taxus baccata) woodland at Kingley Vale
Documents
You can now download recent issues of the Sussex Botanical Recording Society Newsletter by clicking on the links below.
Flora of Sussex
A new Flora of Sussex was published in February 2018: more info here and here. Almost half the print run of 1200 has already been snapped up. The SBRS AGM (see above) will be your final opportunity to purchase the Flora at the pre-publication price of £35.00: after the AGM the full price of £45.00 will apply. Anyone who has already purchased a pre-publication copy of the Flora but not yet received it, will find their copy waiting for them at the AGM.
Vice County Recorders
West Sussex: Mr M. C. Berry/ assistance sought - contact Pete Stroh if you can help.  
East Sussex: Mr M. C. Berry/ assistance sought - contact Pete Stroh if you can help.
Sussex Botanical Recording Society AGM 2019
SBRS AGM 2.00 pm Saturday 2 March
Staplefield Village Hall, Cuckfield Road (B2114):  RH17 6ET/OS grid ref TQ277279
Doors open 1.30.
This morning on Stedham Common there were honey bees busy among the gorse flowers and an early brimstone butterfly flapped past, prompting thoughts to turn to Spring. One imagines that Winter has not quite finished with us yet but we seem unlikely to be visited by the sort of Beast from the East which caused the event to be postponed last year and so I should like to remind you of the forthcoming 2019 AGM in just over a week's time.
Our distinguished President will be in the chair and our enthusiastic Committee in support as we review 2018 and look forward to the recording year ahead.   Our two indoor meetings in the SBRS calendar provide an opportunity for members to get together and exchange ideas, and I like to think that at the AGM the formal business is conducted with brisk efficiency, leaving more time for fellowship and plant-centred matters, including some of your own digital images of Sussex treasures.
It is customary that cakes as well as tea and coffee are available to close the meeting by about 4.30pm.  If you have not attended one of our indoor meetings before, why not come along and enjoy the congenial company?