This year's BSBI Annual Exhibition Meeting (AEM) was held online. To view the exhibits, find out about the people and much more, please visit the Exhibition Meeting website.
You can watch the talks on the AEM Playlist on BSBI's YouTube channel.
This year's Exhibition Meeting Team were April, Ellen, George, Ian, Isobel, Jim, Jodey, Joshua A., Joshua S., Kylie, Leif, Louise, Moira, Ryan, Steve and Tom. You can contact us on [email protected] if you have any questions - we look forward to hearing from you!
Click here to read what people said about this and previous BSBI Exhibition Meetings on Twitter. You don't need to have a Twitter account to find out what people are saying!
Who can attend? What's on?
We welcome everyone who is interested in the wild flowers of Britain and Ireland. You don't need to be a BSBI member to attend: we particularly welcome potential members who can use the meeting to find out more about BSBI. You also don't need to be a botanical expert or a professional botanist - beginners are particularly welcome.
The meeting is free to attend and exhibitor space is also free!
As well as exhibits, there are talks, including updates on BSBI projects, activities and publications, and a behind-the-scenes tour of a herbarium or plant science lab. Visit our Exhibition Meeting archive to see examples of talks and exhibits from recent years.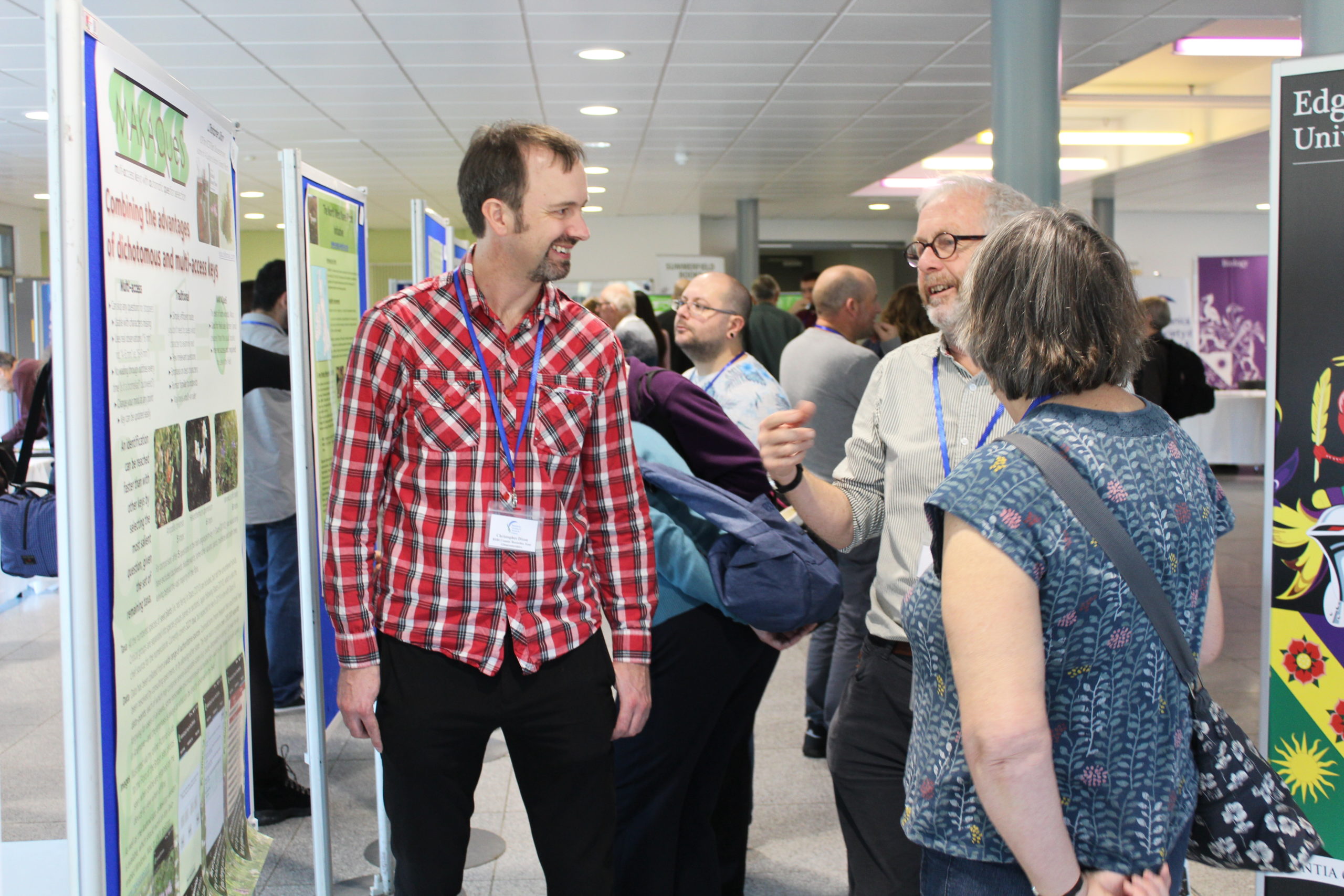 BSBI Annual General Meeting
We've set aside 30 minutes for the BSBI Annual General Meeting (AGM).
If you are a BSBI member, the AGM is your chance to vote on items relating to the society's governance. Please head over to our AGM webpage to download the agenda which is always posted at least a fortnight ahead of the meeting. You will also be able to find out more about the nominations for Trustees. Any member can attend or can raise a matter for discussion by contacting our Company Secretary Steve Gater in advance of the AGM.
Exhibition Meeting 2020 programme
10:45 Welcome/ introduction to the day: Jodey Peyton; Sandy Knapp (NHM/ BSBI trustee), Lynne Farrell (BSBI President)
11:00-11:45 Talks I: Botany at home - BSBI and partners in a Covid world
Chair: Jodey Peyton (Chair, BSBI Events & Communications Committee)
11:00 Plant Alert: the first year - Katharina Dehnen-Schmutz (Co-ordinator, Plant Alert)
11:10 Apps and picture-matching: plant ID around the world - Peter Llewellyn (Chair, Wild Flower Society)
11:20 More Than Weeds – Sophie Leguil (Founder, More Than Weeds)
11:30 National Plant Monitoring Scheme: the first five years of data – Rachel Murphy (Volunteer Manager, NPMS)
12:00-12:30 NHM herbarium tour with Fred Rumsey and George Garnett.
14:00 – 14:30 Talks II: Books session
Chair: Ellen Goddard (BSBI Events & Communications Committee)
14:00 Botanical University Challenge – John Warren & Jonathan Mitchley (BSBI Training & Education Committee)
14:10 NaturalHealth Service – Isabel Hardman (author)
14:20 Britain's Orchids – Sean Cole & Mike Waller (co-authors)
15:00 – 15:45 Panel discussion on wildflower seedmixes: should we sow only native species?
Chair: Sandy Knapp (NHM)
On the panel: Kevin Walker, BSBI Head of Science, and invited guests including Oli Pescott and Sophie Leguil
16:00-16:45 Talks III: BSBI activities for members under lockdown
Chair: Kylie Jones (Secretary, BSBI Events & Communications Committee)
16:00 How BSBI Responded to Lockdown – Louise Marsh (BSBI Comms Officer) & BSBI staff members
16:10 Botany for the Visually Impaired – Falgunee Sarker
16:20 Wild Flower Hour – Rebecca Wheeler and members of the Wild Flower Hour team
16:30 Garden Wildflower Hunt and Atlas 2020 update – Kevin Walker (BSBI Head of Science)
17.00-17:15    Q&A