BSBI publishes a range of botanical books, including:
The Hybrid Flora of the British Isles;
A Vascular Plant Red List for England; 
and our series of BSBI Handbooks for difficult plant groups.
We currently publish three periodicals:
our scientific journal New Journal of Botany; 
our membership newsletter BSBI News;
our monthly eNews for botanical recorders.
News about BSBI publications
*NEW* The pre-publication offer for BSBI Handbook No. 17: Violets has now closed and copies are being mailed out. You will still be able to buy the Handbook from Summerfield Books and other natural history booksellers but at the full price of £15. 
BSBI Handbooks on Eyebrights and Lady's-mantles are also in preparation, and we hope to publish the Eyebrights Handbook later this year. We will let you know details of the pre-publication offer for BSBI members on this page and via BSBI News. Scroll down this page to find out more about BSBI Handbooks. 
eNews
Our monthly eNews is now available to members and non-members alike - it's full of useful info and links for botanical recorders.
You can download issues of eNews using the links below:  
New Journal of Botany
This is the academic journal of the BSBI, published on our behalf by Taylor & Francis.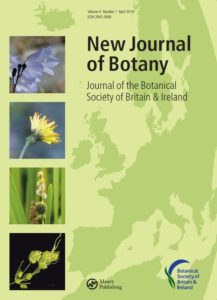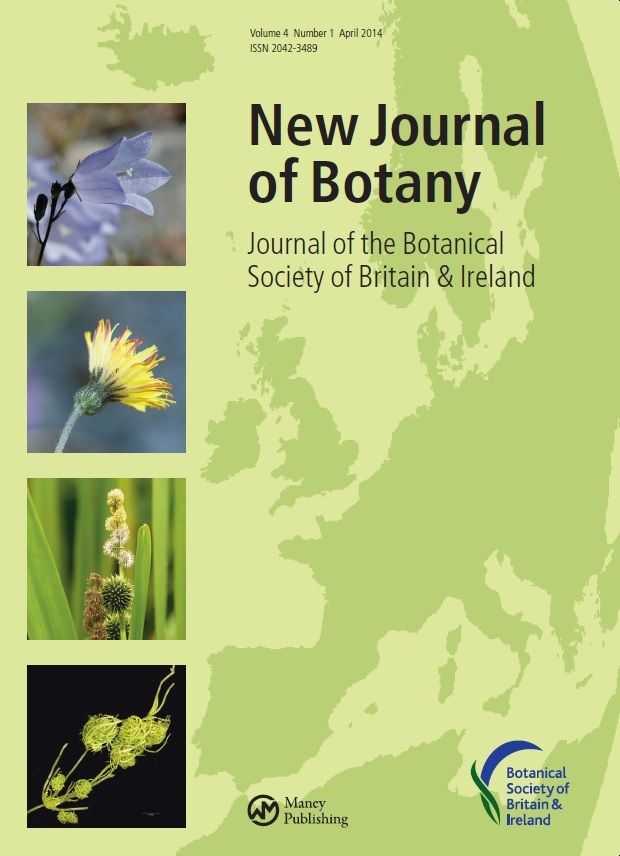 NJB Online (for members only). Email us if you need the password.
If you wish to request print copies of the journal, please email us here to enquire about current print subscription rates.
NJB carries peer-reviewed scientific papers on:
population and conservation biology
ecological genetics
autecological, physiological and phenological studies
phytogeography, floristics, distribution and recording
taxonomy, systematics and evolution
plant/animal interactions, including plant biochemistry
history of botany
general or historical botany. 
Contact Editor-in-Chief Ian Denholm to discuss publishing your research in New Journal of Botany
Po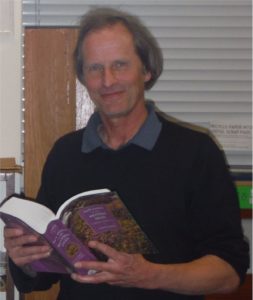 tential authors are invited to submit papers via the New Journal of Botany online submission site. To discuss a proposal before submission, please contact Dr Ian Denholm at the Editorial Office. Book reviews should be submitted by email direct to the Book Reviews editor.
Further details about the Journal, including guidance for authors, may be found here.
The New Journal of Botany was launched in 2011 under the editorship of Dr Richard Gornall and published by Maney Publishing. It replaced the journal Watsonia, but it follows the tradition of Watsonia and should be seen as a continuation and enhancement of our previous journal, not a replacement. In 2016, we welcomed Taylor & Francis as our new publisher and Dr Ian Denholm as our new Editor-in-Chief.
Members of the Editorial Board are listed here.
The full run of Watsonia, from  1949 to 2010, is available on the BSBI's digital publications archive. The Society is grateful to all the authors, editors and reviewers who have contributed to Watsonia and New Journal of Botany over the years. 
Plant Records
The New Journal of Botany publishes significant plant records from  Britain and Ireland. The Plant Records Editor is Mike Porter.
To submit records, download the form below, change its name to something appropriate (e.g. Borsetshire 2016), add your records in the categories given, and send it back to Mike.
NB: the format is Excel 2007 - if you cannot open it, then email Mike for a different format.