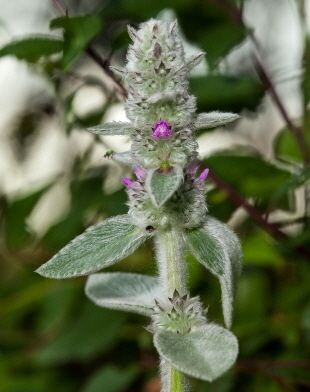 Stachys germanica, Downy woundwort. Photograph by Phil Cutt
Oxfordshire has two active botanical groups: The Oxfordshire Flora Group (OFG), affiliated to the Ashmolean Natural History Society of Oxfordshire (ANHSO) and the Wychwood Flora Group (WFG), affiliated to the Wychwood Project.
The groups are both involved in the monitoring of rare species within the county, appointing Flora Guardians to co-ordinate work and reporting on each species. Long term projects include work on Apium repens, Creeping Marshwort, Filago pyramidata, Broadleaved Cudweed, Stachys germanica , Downy Woundwort, Viola persicifolia, Fen Violet and Salvia pratensis, Meadow Clary .  Both groups work on projects in partnership with other organisations such as The Wildlife Trusts and Natural England. The translocation of Galium tricornutum, Corn Cleavers was done at the instigation of BSBI and OFG continues to monitor progress.
In addition to work on individual species the OFG is involved in habitat work, notably at Frilford where the group monitors the botanical results of a SSSI management plan for Natural England. The Floodplain Meadows Study Group is involved in work on the Oxford Meadows SAC, monitoring flora, soils and hydrology  www.floodplainmeadows.org.uk.
A calendar of meetings can be found on the websites below. Many of the meetings are for the monitoring of individual species but there are some educational outings and there is an informal "botany loop" enabling botanists and those wishing to improve their skills to get together in the field.
More information about the activities of the OFG can be found at www.anhso.org.uk. Work on updating the site is underway so for now the group can still be found under "Rare Plants Group".
For the Wychwood Flora Group enter www.wychwoodproject.org and scroll to the bottom of the home page for information about botanical activities.
The OFG runs a series of  lunchtime Spring Talks in the Department of Plant Sciences in Oxford throughout the Hilary (Spring) term. Details of these can be found on the website.
On November 30th 2014 the Oxfordshire Flora Group is hosting "Guarding the Flora of Oxfordshire- Plant Conservation in the County" at Oxford University Museum of Natural History. Full details of this day will be posted on the ANHSO website closer to the time.
A newsletter is produced annually and that for 2013 is now available from the website.
The ANHSO Education Group has run a series of successful plant ID courses annually since 2002. The Basic ID course teaches the use of a dichotomous key (Stace) and runs on the first Saturday of each month from April through until September. Continuation courses to study challenging groups in more detail are also available. Recently courses have been run for local environmental groups to enable volunteers to become familiar with plants in particular habitats. For more information about these courses go to the ANHSO website and follow links to Education Group.
Work on the Rare Plants Register for Oxfordshire is underway and it is hoped that this may be published in 2015. Recording for Atlas 2020 continues, for details of this please contact recorder for v.c. 23 Sue Helm at sue@shelm.co.uk