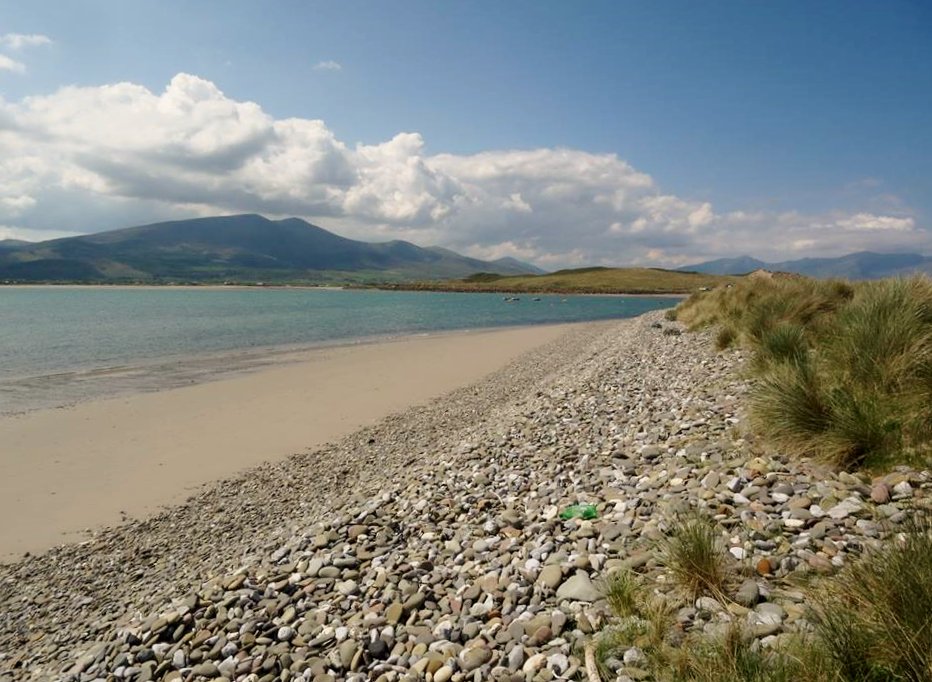 Kerry BSBI Event 2017
*NEW* The botanical recording event of the year is almost fully booked. Just two twin rooms remain for the Kerry BSBI event, 1st-5th June on the stunning Dingle peninsula, Co. Kerry. Open to all, whether seasoned recorders, botanical beginners or improvers.  You don't even need to be a BSBI member! The event is aimed at helping with recording for Atlas 2020. Accommodation for participants is at the Harbour House Guesthouse on the Maharees peninsula (or just come along for daytime sessions - these are free of charge).
Right-click to download the flyer and booking form. Contact leader Rory Hodd to book those last two twin rooms - more here. He and Caroline Mhic Daeid, fellow County Recorder for Kerry, will be present throughout as will BSBI Irish Officer Maria Long. So lots of help and support on offer! Follow the action on Twitter via the #KerryBSBIevent hashtag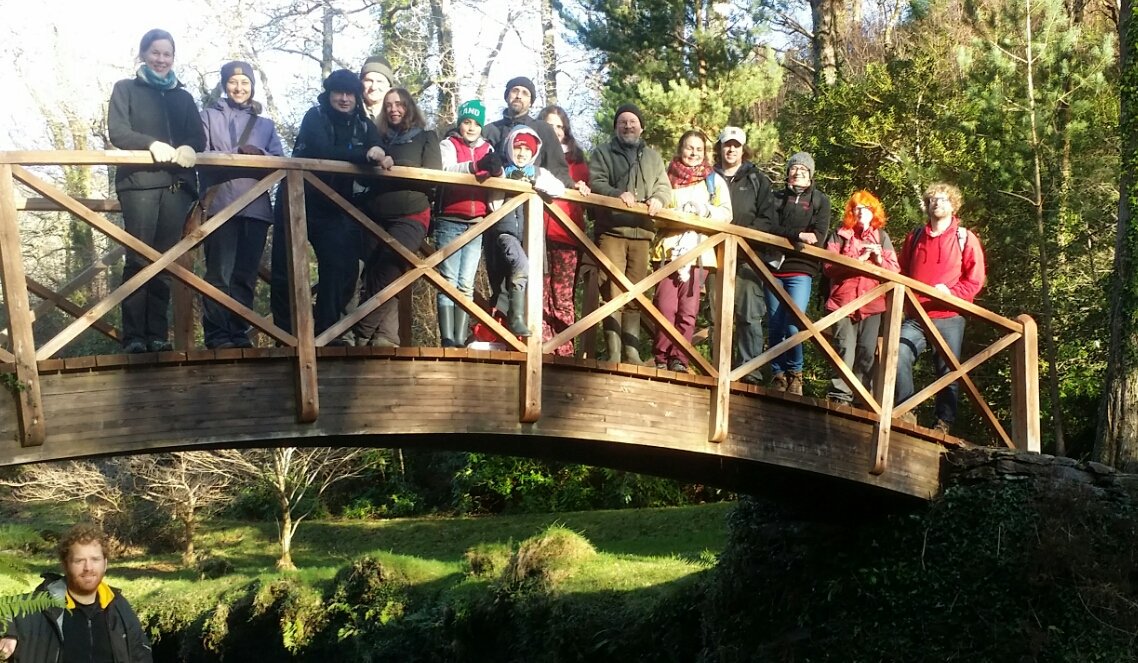 New Year Plant Hunt 2017
Irish stats for 2017 coming soon! In 2016, there were:
50 plant lists submitted
235 species recorded in bloom
53 species on the longest list
22 species = average list
18 VCs with data submitted
We know that many people again took part in 2017, and well done to each and every one of you, no matter how long or short your list was! Read about how Irish recorders got on here and here. Visit the New Year Plant Hunt page to see updates on the 2017 survey. More details to follow and keep an eye on our New Year Plant Hunt Twitter feed here. 
Cork Recording Event
Our main recording event of the year in 2016 was a four-day trip to Cork. Flyer
here
 - just so you can see what you missed! 
The event was really great fun, with targeted recording in some of the most spectacular scenery in Ireland, rough crew teams tackling mountains, and evening activities too! We were based in the Gaeltacht (Irish-speaking) village of Ballyvourney, at the beautiful Mills Inn.
Here we set up base camp, planned our routes, ate in the evenings, and discussed our finds and mapped our progress.Over the course of the four day event, 37 people took part, many of them local, and nearly 4,000 records were collected. A fantastic event and a fantastic success. Read more about it here, here and here. 
Irish BSBI Conference 2016
12 & 13 March at the National Botanic Gardens. We had a great conference, with a series of interactive workshops, and a number of great talks. Below are some of the talks for you to download and view.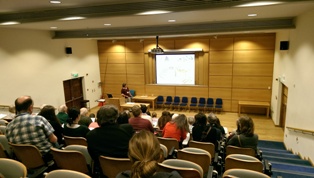 Mayo Recording event, 27 Jul - 3 Aug 2015
Aimed at helping with recording for Atlas 2020, the Mayo Recording Week 2015 was a phenomenal success! 42 botanists took part, and collected a whopping 10,824 plant records from 132 monads (1x1 kmsqs) in 33 hectads (10x10 kmsqs) all across Co. Mayo in 8 days. It was great fun with lots of new contacts and friends made.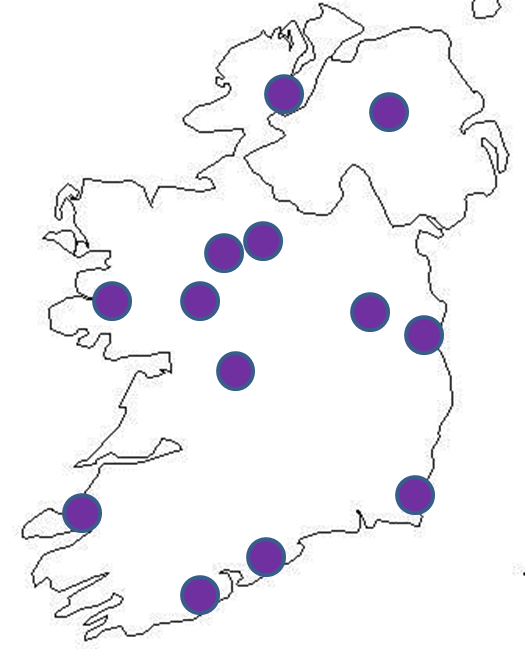 Irish BSBI field meetings 2017
The 2017 core field meetings programme for Ireland has been finalised and is looking great! Click here to download a handy A4 flyer with all the details. Please help us advertise our meetings by sharing and posting this flyer among friends, in your local area, etc.
The map above gives you an overview of where our meetings are. There are training days, traditional BSBI outings, recording weekends, and a show-stopper big gathering planned for the stunning Dingle peninsula. What a tempting line-up of events and more will be added in the coming weeks, so make sure to check this webpage and to follow us on Facebook and on Twitter. 
You can also find all field meetings in Britain and Ireland listed here.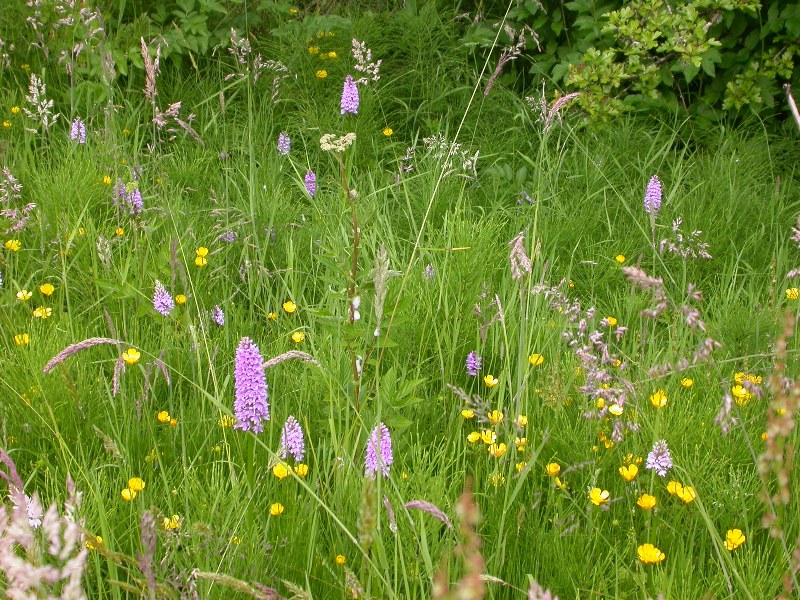 Irish Species Project (ISP)
Work on analysing all the data collected during the ISP is ongoing. We hope to have an article show-casing the findings in Irish Botanical News 2017, which is due in March.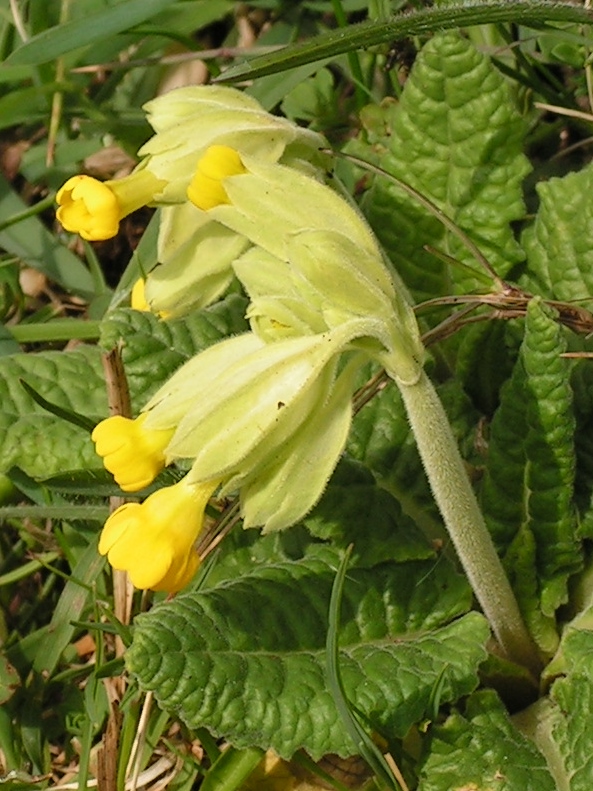 The ISP ran during 2014 and 2015. Work on analysing the data collected is being carried out now, and updates will be posted here. A total of 224 record cards were returned, with data being submitted for 31 of the 40 VCs across Ireland. There were 64 individually named recorders (of which 26 were County Recorders).
If you are interested in seeing the  guidance document or the recording card, click on the links, but please remember that this project is no longer running.
Click on the links below to see the species profiles (kindly hosted by NBDC):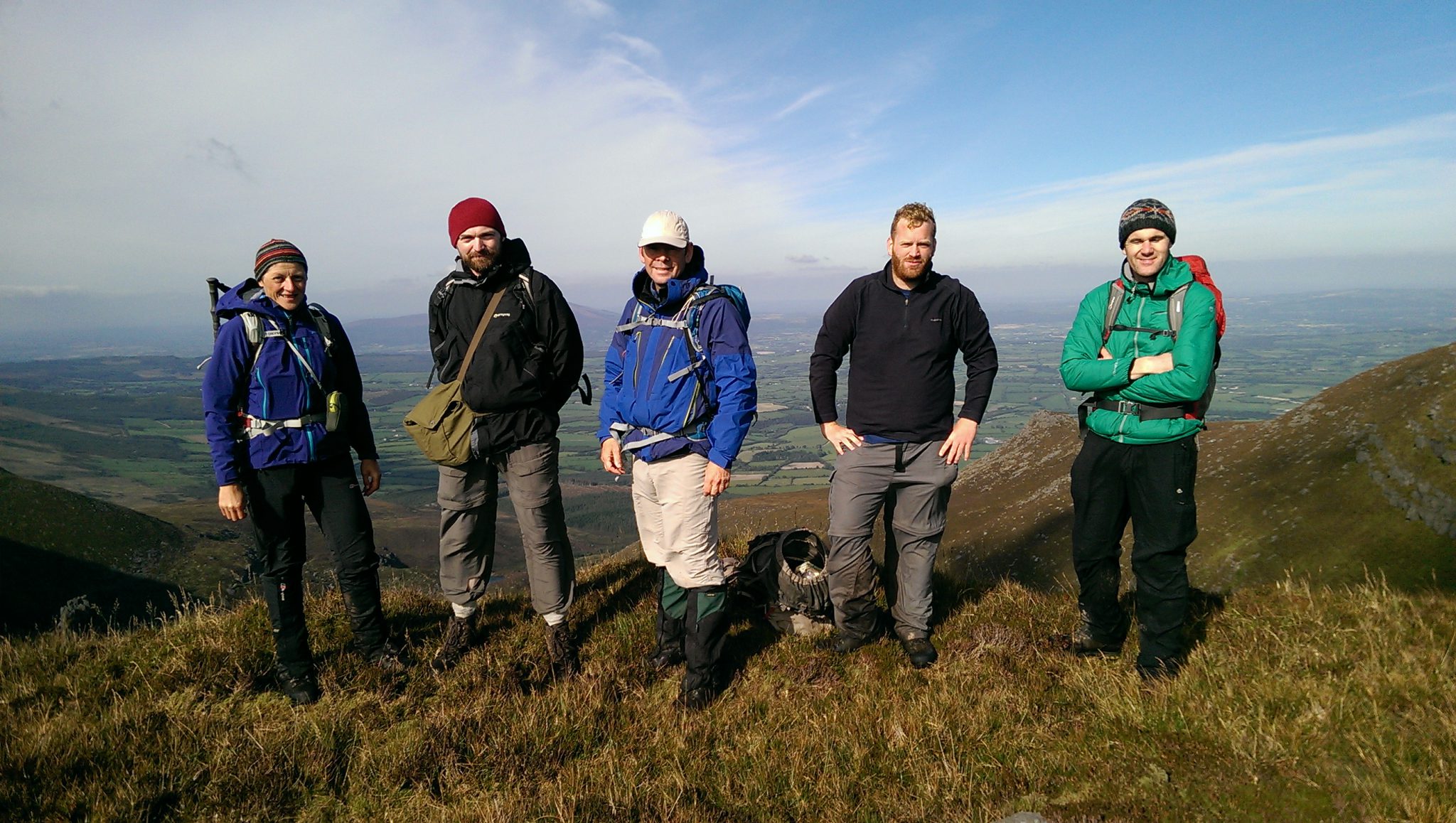 The Rough Crew
The Rough Crew record in places that are relatively inaccessible and a challenge to get to, such as mountain areas and offshore islands. In this way they bring in valuable records from places that have suffered from a lack of recording, and thereby support local County Recorders with tricky work.
So if you like a challenge, are reasonably fit, enjoy remote and wild places, and are an experienced botanist, enthusiastic beginner or somewhere in between, then the Rough Crew could be for you!
We have an informal email list - to be included email Rory Hodd: rlhodd@gmail.com.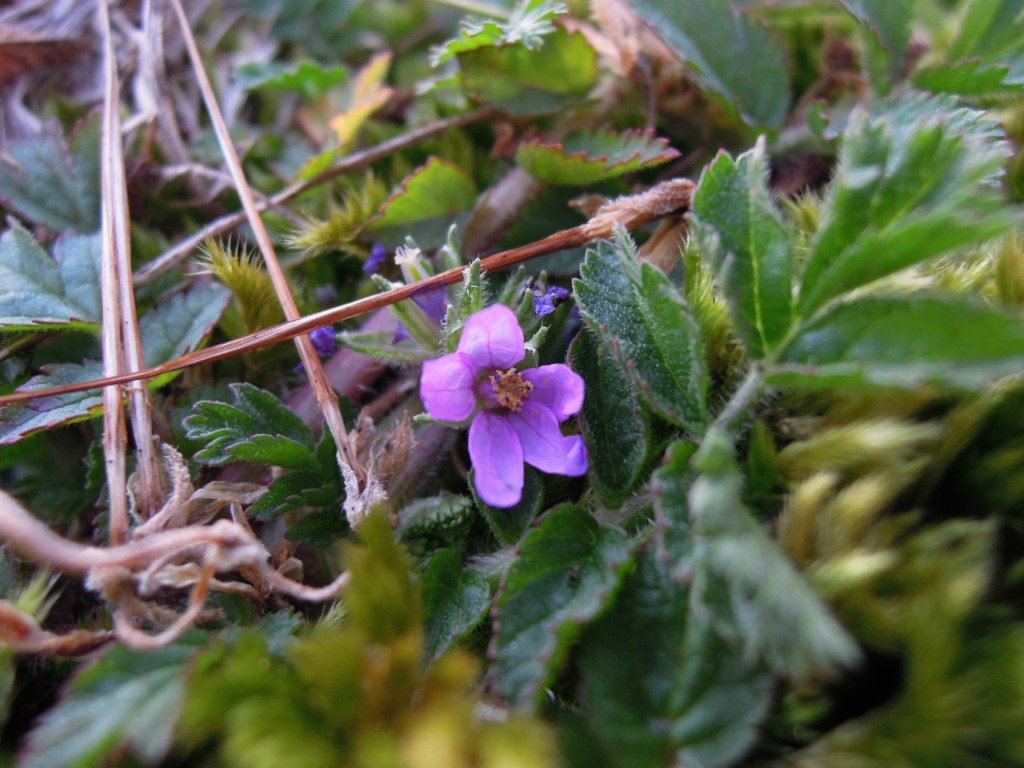 News
*NEW* Just out and available to download: Irish Botanical News No. 27, March 2017 - a bumper issue!  
*NEW* Just 2 rooms left for the recording event of the year! Details of the Kerry BSBI Event are in column one (on the left).
*NEW* Presentations are now available to download from the 2017 Irish BSBI Conference which took place on Saturday 25th March in the National Botanic Gardens, Dublin and featured orchids, flash talks, presentations and mini-workshops. More info on the News & Views blog here and here.
The Spring Flowers Project has started again: follow this link to submit your sightings.
The 2017 field meetings schedule for Ireland is available to download - see middle column. And put the dates in your diary right now!
The new Red List for the vascular plants of Ireland can be downloaded here. The Red List is dedicated to BSBI's County Recorders: "This work could not have been undertaken without the huge contribution made by the BSBI Vice-county Recorders ... ... to them this Red List is sincerely dedicated."
The latest issue of the Irish BSBI Newsletter is out! It has 12 pages of the latest botanical news from across Ireland, as well as plans for 2017. Scroll down this column to download your copy.
Also on the BSBI News & Views blog: read posts by and about Irish botanists such as this one about the recent field meeting held at Drumnaph NR in Co. Derry, or this post from August celebrating C19th botanist Ellen Hutchins; find out here and here how BSBI botanists contributed to the Five Island BioBlitz in June, or read here what happened when Ireland's top national wildlife programme caught up with Maria and the Rough Crew. If you would like to offer a guest blogpost about botany in Ireland, please email Maria to discuss. 
Irish Officer
Maria Long, BSBI Irish Officer, National Botanic Gardens, Glasnevin, Dublin 9, Ireland.
Email: maria.long@bsbi.org
Telephone: 00 353 87 2578763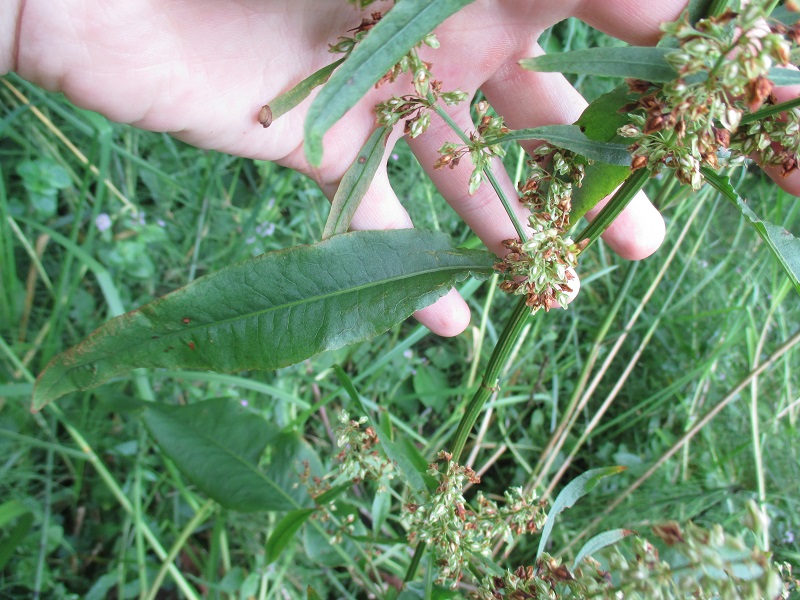 Newsletter for Irish VC recorders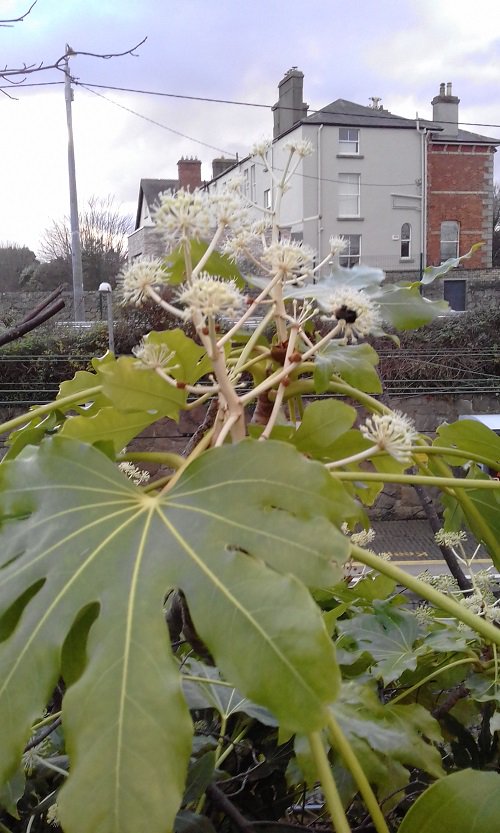 Recent Finds
An orchid found in Munster proved to be X Dactyloglossum mixtum, the intergeneric hybrid between Frog and Common-spotted Orchid.
John Faulkner, BSBI President and County Recorder for Armagh, found Field Woundwort Stachys arvensis - just a year after the Rare Plant Register declared it locally extinct! 
The BSBI's botanical find of the year was also made in Ireland, with a new site for Killarney Fern (gametophyte and sporophyte) discovered during the Cork Recording Event. 
One to watch out for: Water bent Polypogon viridis was found in Donegal by County Recorder Ralph Sheppard. 
Recording Centres in Ireland
The National Biodiversity Data Centre (NBDC) is based in Waterford. From their website you can access maps and often details of records.
In Northern Ireland there is the Centre for Environmental Data and Recording (CEDAR), which holds more than a million vascular plant records on its databases. The Centre is happy to accept new records. Data cannot be obtained directly from their web site, but is accessible via an Information Request (email or post). Maps are displayed via the Flora of Northern Ireland.
Atlas 2020
The largest BSBI project running is Atlas 2020 - a full survey of all our vascular plant flora for the period 2000 to 2019. There is a dedicated Atlas page here, and here is a recent talk on 'Gearing up for Atlas 2020'.
Irish Members' Conference 2014 presentations
Many of the speakers have made their talks available to download. Click on the links below to access them: