Exhibition Meeting 2016
Each year in November, BSBI holds its Annual Exhibition Meeting (AEM) and the location changes from year to year.
This year, the AEM will be held on Saturday 26th November at the Centre for Ecology & Hydrology, Wallingford, Oxfordshire.
All are welcome and admission to the AEM is free.
To view the programme of speakers, a map of the location, travel details and catering options, and to book a ticket, please use the link below: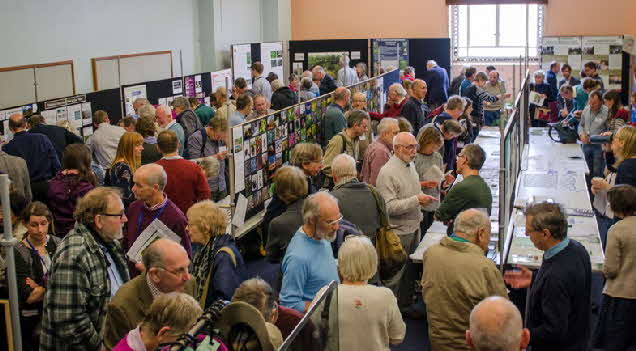 Who can attend and what's on?
We welcome everyone who is interested in the wild flowers of Britain and Ireland. You don't need to be a BSBI member to attend: we particularly welcome potential members who can use the meeting to find out more about BSBI. As well as exhibits, there are talks, including updates on BSBI projects, activities and publications. 
BSBI Annual General Meeting
We set aside half an hour before lunch for the BSBI Annual General Meeting.
If you are not a BSBI member, this simply means that you are invited to visit the exhibition hall rather than remaining in the lecture theatre.
If you are a BSBI member, the AGM is your chance to vote on items relating to the society's governance and you can also raise a matter for discussion by contacting our Administrator Clive Lovatt in advance of the AGM.
Exhibition Meeting 2015
In 2015 the AEM was held at the Natural History Museum, London on 28th November.
Presentations from the AEM are available by clicking on the title in the box on the right. They can all be downloaded free of charge for non-commercial use.
The images on this page show some of the 205 people who came along on the day and some of the 44 exhibits they enjoyed. We also offered tours of the NHM Herbarium and the Wildlife Garden. Our News & Views blog has reports about the exhibits and the day's activities if you would like to find out more.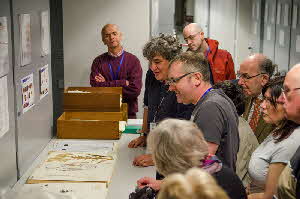 Exhibition Meeting 2015
11.30-12.30: Talks 1: Botanising across Britain & Ireland in 2015.
14.30-15.15: Talks 2: Learning more and getting involved – with BSBI and partners.
16.00-16.30: Keynote lecture: Alien plants (Mick Crawley - Imperial College).