BSBI / BSS Scottish Annual Meeting 2017
The 2017 Scottish Annual Meeting was held on Saturday 4th November at the Royal Botanic Garden Edinburgh. We had 151 participate in a packed and exciting day of botanical talks, workshops, exhibits and posters.
The programme is given below and you can download pdfs of each presentation by clicking on the link.
You can also view abstracts of all the exhibits by downloading this pdf.
10.25      The BSBI Scottish Year & AGM – Robin Payne, BSBI Scottish Chair
10.50      The BSS Report – Brian Ballinger, BSS President
11.30      Atlas 2020 – Jim McIntosh, BSBI Scottish Officer
11.45      The Threatened Plants Project results – Pete Stroh, BSBI Scientific Officer
13.15     ID Mini-workshops
15.45      Marsh Saxifrage in Scotland - Dr Aline Finger, RBGE
16.00     Discovery of a Scottish Monkeyflower – Dr Mario Vallejo-Marin, University of Stirling
16.15      Plant monitoring & conservation SWT Stirling – Roy Sexton, SWT
17.00     Mountain Flowers – special guest speaker Mike Scott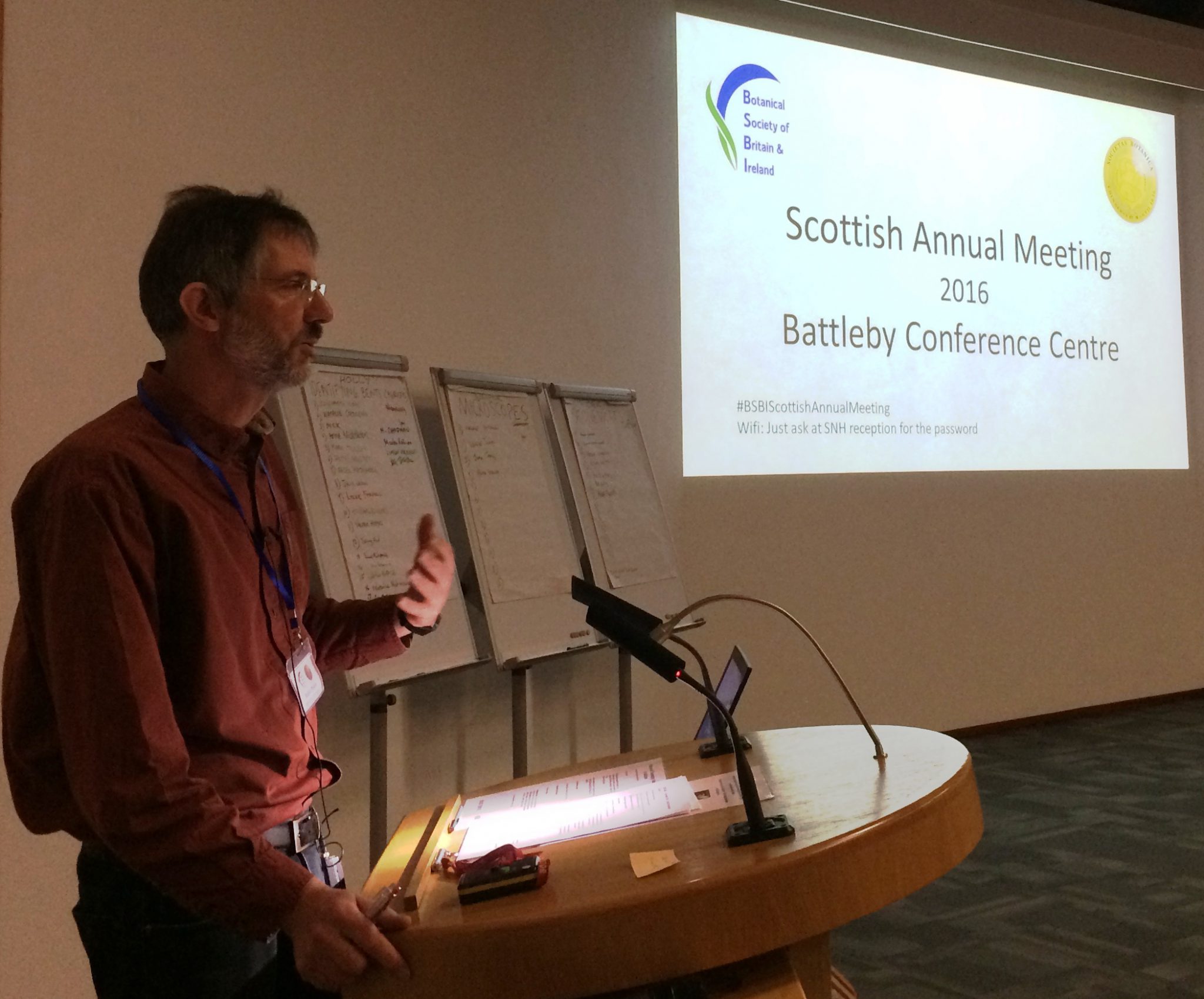 Robin Payne speaking at the 2016 Scottish Annual Meeting
BSBI / BSS Scottish Annual Meeting 2016
Just over 110 members enjoyed a packed day of talks, workshops, exhibits and meeting friends at the 2016 event which was held at Battleby Conference Centre, Perth on the 5th of November.
The highlight was the main talk on Aliens in the British Flora by Professor Mick Crawley. Mick is a brilliant and very entertaining speaker and introduced us to interesting concepts such as 'enemy release' whereby species that have left behind in their native environments most or all of their specialist natural enemies are able to thrive. He observed that some habitats are apparently more easily colonised by aliens than others e.g. waste ground and the built environment, compared with bog and salt marsh for example and concluded that relatively few alien plant species are invasive of semi-natural habitats in Britain. It was amazing to learn that the cost of removal of invasive species at the London Olympic 2012 site was £70 million and concluded that a few alien species are likely to prove to be extremely expensive to control. His talk showed us that studying aliens give us very interesting insights into plant ecology and evolution. You can see a pdf version of Mick's talk or indeed many of the other Scottish Annual Meetings talks by clicking the links below.
10.15     Welcome & Introduction – John Faulkner, BSBI President
10.25     The BSBI Scottish Year – Robin Payne, Chairman, BSBI Committee for Scotland
10.50     The BSS Report – John Grace, BSS President
11.30     Atlas 2020 – Progress Report – Jim McIntosh, BSBI Scottish Officer
11.45     Atlas Recording in the Cairngorm National Park - Andy Amphlett, BSBI Recorder Banffshire
14.00    How I became a botanist - Michael Braithwaite, BSBI Recorder Emeritus
14.15     The sunny sides of summits - Jay Mackinnon, Lecturer, Edinburgh Napier University
14.30     A year in the life of a Scottish Recorder - Stephen Bungard, BSBI Recorder North Ebudes
14.45     The biggest problems in European fern taxonomy?  - Fred Rumsey, NHM & BPS President
17.00     Main talk: Aliens in the British Flora, Professor Mick Crawley
The other great highlight of the day was the mini-workshops.  We offered six – two on popular taxonomic problems such as Identifying Agrostis (Arthur Copping) or Distinguishing Scaly Male-fern species (Fred Rumsey); three giving Introductions to Sedges (Chris Metherell), Stoneworts (Claudia Ferguson-Smyth) and microscope techniques (Sandy Edwards) respectively; and one giving members a chance to feedback on the BSBI Review. Handouts are available for some of these - just click the link.
Thirty exhibitors mounted a tremendous display of botanical discovery and endeavour across Scotland and further afield. Read the Abstracts summarising their exhibits.
The day closed with the announcement of the winners of the BSBI Photographic Competition and then dinner together before we all headed home. A thoroughly enjoyable day for Scottish botanists and their guests from further afield.