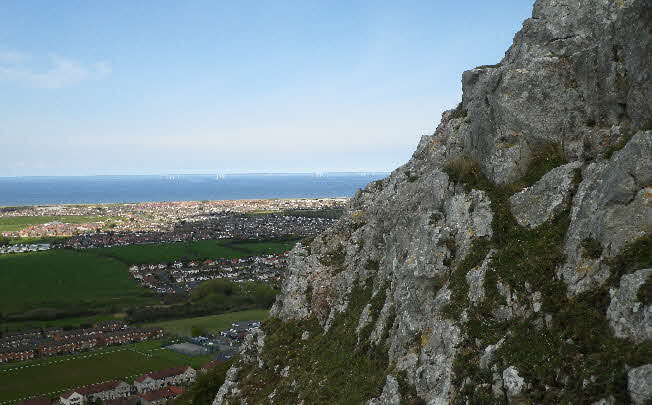 County Recorder
Please enter records via Cofnod (North Wales Record Centre) web site or email to Emily. 
The county of Flintshire
Flintshire  is a small county in the north east corner of Wales. Bounded on the north by coast and the Dee Estuary and to the west by the Clwydian Hills. It has a diverse landscape with, the hills reaching 554 m and down to the lowlands in the east, where it boarders the Cheshire Plains. A range of habitats can be found: dunes, saltmarsh, limestone grasslands, disused lead mines, woodlands, lakes, rivers, moorland and industrial sites. 
Field Meetings in 2017
Please note the dates below for BSBI meetings in Flintshire.  All meetings aim to explore the flora of under-recorded tetrads and contribute towards Atlas 2020 as well as improving our plant ID and of course having fun! We expect to finish around 4 / 4.30pm. Joining instructions available from Gail Quartly-Bishop.
There will be a bonus meeting at some point in July to count the Deptford Pink at Coed y Felin - to be arranged later.
April 22nd: Rhyl - Meet at 10.30am at Rhyl train station to explore the flora of tetrad SJ08A (central Rhyl).  Habitats include urban, seafront, beach, ponds and scrub.  
May 14th: Caerwys - Meet 10am at Piccadilly Inn, North Street, Caerwys (SJ128731) to explore farmland, woodland and rough grassland in tetrad SJ17G. 
June 24th: Clwydian Hills - Meet 10am at the car park at SJ138668 to explore acid grassland and moorland around Penycloddiau in tetrads SJ16I and SJ16N. 
1st July: Deptford Pink count at Coed y Felin - More here. 
July 30th: Rhuddlan - Meet 10am in the car park at KFC just outside Rhuddlan (SJ019777) to explore the flora of tetrad SJ07D.  This is a mostly rural tetrad with plenty of farmland plus the urban area outside Rhuddlan.
August 12th: Penyffordd - Meet at 10am at the Millstone pub, Hawarden Road, Penyffordd (SJ302617) to explore SJ36A, a varied tetrad with urban, farmland and riparian habitats.
September 10th: Vascular plant meeting, New Brighton - Meet at 10am at the Beaufort Park Hotel (SJSJ254655) to explore the flora of tetrad SJ26M, which includes urban and farmland habitats.