AGM 2017: the agenda
The BSBI Annual General Meeting (AGM) takes place every year during the Annual Exhibition Meeting. We set aside up to an hour for BSBI members to vote on items relating to the society's governance.
If you are not a BSBI member, you can choose to stay in the lecture theatre and listen to our discussions (although you won't be able to vote) or you can opt to visit the exhibition hall instead.
Any member can raise a matter for discussion by contacting our Company Secretary Clive Lovatt in advance of the AGM. Click here to see the draft agenda, which we posted on this website in September.
Our 2017 AGM will take place between 2-3pm in the Flett Lecture Theatre, Natural History Museum, London.
You can download the full agenda by clicking here. This full agenda includes information on retirements, and candidates for elections as officers and Honorary Members. 
You can also see the minutes of the 2016 AGM here. The minutes are to be approved during the 2017 AGM. 
The approved minutes from the 2015 AGM, held at the Natural History Museum, London, are here.
The approved minutes from the 2014 AGM, held at the University of Leicester, are here.
Our Annual Reports and Accounts, and our Annual Review, are available here. They are referred to in the AGM agenda and were approved and authorised for issue to members by the Board of Trustees.
BSBI members will be asked to adopt these documents as a formal record of our botanical and financial activities in the year ending 31st March 2017.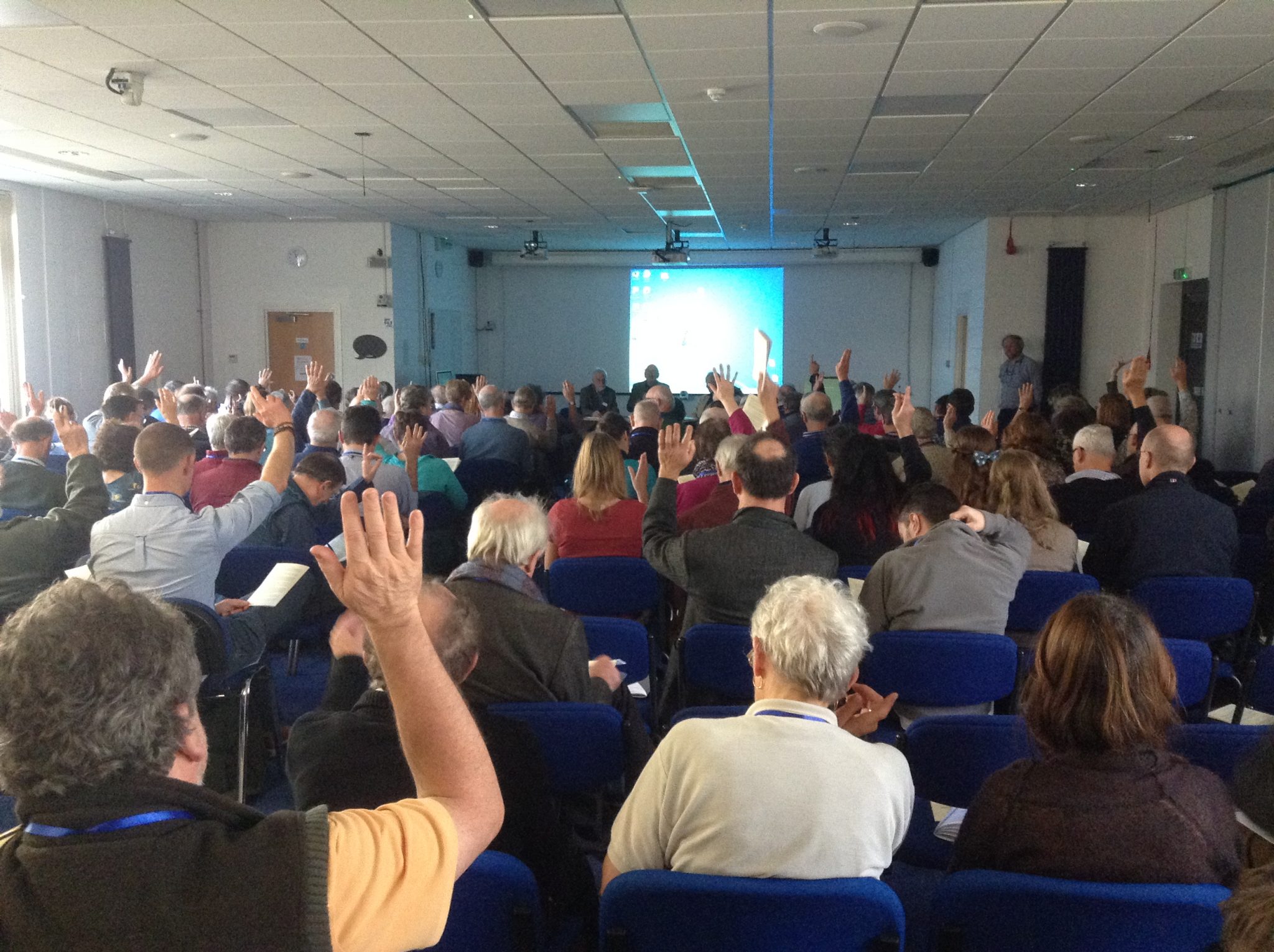 BSBI members voting on a resolution during AGM 2016 at CEH Wallingford. Image: L. Marsh
AGM 2017: the people
There are many names mentioned in the AGM agenda 2017 - members are being asked to vote on the nominations of two new Council members: Mark Duffell and Anne Haden; two Honorary Members: Bob Ellis and Trevor James; and five new trustees: John Faulkner,  Alastair Fitter, Sandra Knapp, Christopher Miles and Anthony David Thomas. You'll find short profiles of  all of these people in the AGM agenda 2017  here and the links below should give you an idea about the other people mentioned:
Ian Denholm was BSBI President 2013-5, is Chair of BSBI's Meetings & Communications Committee, Editor-in-Chief of New Journal of Botany since 2016, joint County Recorder for Hertfordshire and a BSBI plant referee. He has served on BSBI's Board of Trustees since 2013.
Martin Godfrey is Vice-President and Education Officer of the British Bryological Society, has led field meetings and training workshops for BSBI and is an active volunteer in his local herbarium. He has served on BSBI Council since 2014.
Chris Metherell was BSBI's Honorary General Secretary from 2014 until earlier this year, is County Recorder for North Northumberland, is a BSBI plant referee, a flag-waver for herbaria and is writing a BSBI Handbook on Euphrasia. He has served on BSBI's Board of Trustees since 2013.
Matt Parratt has since 1994 been a research scientist at Forest Research, based at Roslin, Scotland. He is a silviculture researcher, botanical tutor and mountain leader. He is one of BSBI's expert plant referees and has served on BSBI's Council since 2015.
David Pearman was BSBI President 1995-1998, a stalwart of BSBI's Records & Research Committee, co-author of the New Atlas of the British & Irish Flora (2002), co-author of the Hybrid Flora of the British Isles (2015), author of the forthcoming Discovery of the Native Flora of Britain & Ireland. His many contributions to BSBI were celebrated at 'Pearman Day' held at RBG Kew in 2014. He has served on BSBI's Board of Trustees since 2013.
Sarah Whild is Senior Lecturer in Plant Ecology at Manchester Metropolitan University and Director of their Biological Recording Programmes. She chaired BSBI's Training & Education Committee from 2005 to 2016 and was responsible (with Sue Townsend) for devising Field Identification Skills Certificates. She has served as a trustee of the Field Studies Council, the National Federation of Biological Recording and since 2013 she has served on BSBI's Board of Trustees.  
Delyth Williams has been County Recorder for Denbighshire since 2008, has served on BSBI's Committee for Wales since 2003 and has served as a BSBI trustee since 2013. In 2017, she was appointed BSBI's Honorary General Secretary, taking over from Chris Metherell.
Reminder
Don't forget, the AGM is your chance to have your say and participate in how the society is governed. There will be paper copies of the 2017 AGM agenda and the minutes of the 2016 AGM available at the Natural History Museum on 25th November but we would also encourage you to take a look in advance at the electronic copies available for download from this page.   
The BSBI aims to be transparent and accountable in its governance - to this end, we have made the minutes of all meetings of our Council, Board of Trustees and committees available to all our members via our Governance website or via our members-only area (passwords required). Contact us if you are unsure of your password and please include your membership number or your postal address.